May 10, 2017
Addressing foot pain may help prevent falls, hospitalizations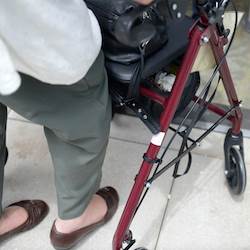 (Photo by John Merkle)
Addressing foot pain in older adults may lead to significantly fewer falls and hospitalizations as well as the maintenance of independence, suggests newly published research from the Hebrew SeniorLife Institute for Aging Research.
The investigators studied data from the Framingham Foot Study and found that individuals who had foot pain, especially severe foot pain, or a diagnosis of planus foot posture (flat feet) were more likely to have fallen two or more times over the past year. Specifically, foot pain was associated with 62% increased odds of recurrent falls, and those with moderate or severe foot pain were at even greater risk. People with flat feet had 78% higher odds of having two or more falls.
The findings were published Tuesday in the journal Gerontology.
"This is important because falls are a serious problem for older adults," lead author Arunima Awale, a research associate at the institute, said in a statement. "They are a leading cause of hospitalization and often lead to a loss of independence, a decrease in quality of life and sometimes death. With this new knowledge, we hope to find more solutions to lessen the risk of falls in older adults."
Awale discusses the research here: