September 10, 2015
Adults 70+ should be screened for brain health, panel advises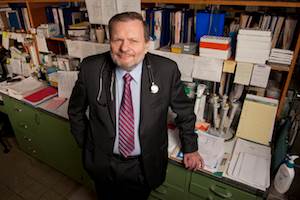 John Morley, MD
Older adults aged 70 or more years should be evaluated for memory and reasoning ability every year, according to a panel of geriatricians, neurologists, psychiatrists, social workers and psychologists from around the world. The panel, convened at Saint Louis University in Missouri, also suggested that those who are found to have cognitive problems should be screened for physical frailty, and vice versa.
"The ability to learn, solve problems and remember is a key to successful health and aging," John Morley, MD, director of geriatric medicine at Saint Louis University and lead author of the consensus paper, published in the September issue of JAMDA, said in a statement.
Some causes of early cognitive disorder—depression, hypothyroidism, sleep apnea, problems with sight and hearing, and treatments of multiple health conditions with medications—can be reversed and treated when caught early, the paper noted, and the progression of cognitive impairment sometimes can be slowed through a series of lifestyle changes. Healthcare providers who are aware of a person's cognitive decline can find ways to ensure that the older adult is adherent to orders for their medical conditions, the panelists said, and older adults aware of their cognitive decline can plan for the future.
For those who have early cognitive problems, the panel endorsed a Mediterranean-type diet, physical exercise such as resistance training and Tai Chi, and hobbies such as dancing, playing a musical instrument and playing video games.