January 22, 2017
Advocates for seniors identify their top issues for Trump administration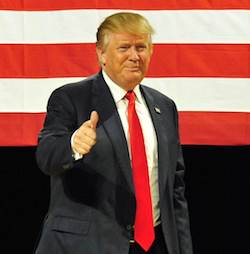 Donald J. Trump
Medicaid, home- and community-based services, long-term services and supports, the elder care workforce and Medicare are among the important areas that President Donald Trump and members of Congress should focus on for older adults, advocacy groups maintain.
In letters to Trump and Congress before the new president took the oath of office, the American Geriatrics Society said that changes to Medicaid, Medicare and the Affordable Care Act might increase costs, reduce coverage or cut benefits for seniors. The letters were accepted Jan. 19 for publication in the Journal of the American Geriatrics Society.
"Efforts to reduce or cap Medicaid funding could endanger the health, safety and care of millions of individuals who depend on the essential services provided through this program," AARP CEO Jo Ann Jenkins told Trump in a separate letter shared with the public on Jan. 17. "Furthermore, caps would likely result in overwhelming cost-shifts to state governments unable to shoulder the costs of care without sufficient federal support."
The National Council on Aging said it also is concerned about Medicaid costs potentially being shifted to states. "Recent House budget proposals would have cut Medicaid funding by more than $900 billion over 10 years and turn it into a block grant program," the group said in an online post dated Dec. 20. "These changes would shift rising health costs to states, individuals and their families, making it harder for poor seniors to remain at home and afford the healthcare they need."
Jenkins urged Trump to ensure that HCBS remain available to individuals in the same way as nursing home funding. "Any health law changes should ensure that more individuals are able to receive services in their homes and communities rather than costly institutional care," she wrote.
In its letters, the AGS also stressed the need for federal and state policies that expand healthcare options for older adults so that more of them can live independently for as long as possible.
And the NCOA said that it will encourage Congress to restore funding and invest in efforts to let seniors age in place and ensure that older adults have access to meals, job placement services, transportation and caregiver support. "Funding for these non-defense discretionary programs is approaching an historic low as a share of the economy," the organization said.
Regarding Medicare, AARP's Jenkins wrote, "Proposals creating a defined contribution premium-support program, restricting access by raising the age of eligibility or allowing hospitals and providers to arbitrarily charge consumers higher prices than Medicare all betray the promise made to older Americans who have paid into Medicare their entire working lives. Indeed, these proposals do little to actually lower the cost of healthcare. Rather, they simply shift costs from Medicare onto individuals, many of whom cannot afford to pay more for their care."
The NCOA also said that potential options to Medicare reform could be problematic. "Premium support proposals would give people with Medicare a fixed dollar amount to pay for healthcare instead of covering a specific set of essential benefits and services," the organization noted. "This would unfairly place the burden of rising health costs onto people with Medicare, most of whom have fixed incomes that do not keep pace with the rising cost of living."
The AGS also called on the executive and legislative branches of the federal government to support "adequate resources" for current and future caregivers and to address the "acute and growing nationwide shortage" of geriatricians and all geriatrics healthcare professionals while also ensuring that other clinicians have training that prepares them to care for older adults.
See also:
Save HCBS-related ACA provisions, LeadingAge and other advocacy groups tell Trump
Trump administration's proposed spending cuts threaten affordable housing, group says