November 30, 2016
Aging Committee leaders cheer bipartisanship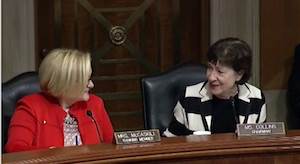 Sen. Susan Collins (R-ME), right, compliments Sen. Claire McCaskill (D-MO) at the beginning of a Nov. 30 hearing of the Senate Special Committee on Aging.
As the ranking member of the Senate Special Committee on Aging prepares to depart from that role, she and the committee's chairwoman celebrated what can be accomplished when Republicans and Democrats collaborate.
"Working together, in a completely bipartisan way, we have made a real difference for the seniors of this country," committee leader Sen. Susan Collins (R-ME) said of her work with Sen. Claire McCaskill (D-MO) on Wednesday at the start of a committee hearing about the financial abuse of seniors by guardians.
McCaskill will remain a member of the committee in 2017, Collins said, but she is becoming ranking member of the Senate's Homeland Security and Government Affairs Committee, of which she currently is a member. Sen. Bob Casey (D-PA), already serving on the Aging Committee, will replace her as ranking member.
"It has been such an honor and pleasure to work so closely with a senator who cares so much about the issues facing our seniors in this country, a senator who never hesitated to wade into the most complicated of issues, such as our drug pricing hearings and investigation, and who has initiated many important projects that this committee has taken on," Collins said.
In addition to drug pricing, committee hearings this year have addressed issues such as scams and financial abuse of older Americans, Alzheimer's disease research progress, financial security in retirement, maximizing Social Security benefits, opioid use among seniors and person-centered care at the end of life. Additionally, in September, Collins and McCaskill wrote a letter to the Centers for Medicare & Medicaid Services seeking clarification on the provision of home- and community-based services under a 2014 final rule with which all states and HCBS settings must comply by March 2019. Confusion about the rule may limit the ability of assisted living and memory care providers to serve Medicaid beneficiaries, they said at the time.
"I think the saddest thing about us parting ways at this point is that it's too bad that more Americans don't realize that this kind of work goes on," McCaskill said. "It's too bad that the cynicism that is out there about government doesn't bother to look into committee rooms where there's a Republican and a Democrat working as hard as they know how toward a common interest. And the reason that's possible is because the chairman was never interested in scoring political points; she was interested in scoring policy achievements on behalf of the senior citizens of this country."
In addition to serving as ranking member of the Special Committee on Aging, McCaskill currently is the ranking member of the Permanent Subcommittee on Investigations of the Homeland Security and Governmental Affairs Committee and a member of the Armed Services Committee and the Commerce, Science and Transportation Committee.
Casey currently is the ranking member of the Taxation and IRS Oversight Subcommittee of the Senate Finance Committee; the Children and Families Subcommittee of the Health, Education, Labor and Pensions Committee; and the Nutrition, Specialty Crops and Agriculture Subcommittee of the Agriculture, Nutrition and Forestry Committee. He also is a member of the Joint Economic Committee and the National Security Working Group and co-chair of the Weapons of Mass Destruction Terrorism Caucus.