April 18, 2016
AL owner accused of $200,000 theft from resident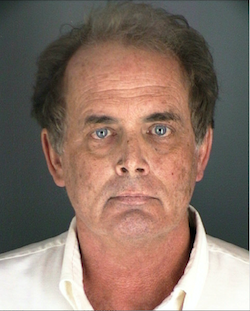 Christopher Butler (Photo: Boulder County Sheriff's Office)
Staff members of Timberline Lodge Assisted Living are surprised by the accusations levied against the owner of the Longmont, CO, facility, but they continue to care for residents as they await the outcome of his case, Manager Rachel Leavitt told McKnight's Senior Living.
Christopher Butler was arrested April 15 after an eight-month investigation by the Boulder County Sheriff's Office determined that he may have stolen more than $200,000 from a resident. He has been charged with three counts of theft from an at-risk adult, over $500; identity theft; theft from an at-risk adult, less than $500; one count of forgery; and six counts of fraud by check. All of the charges are felonies of various classes.
"We're not sure what to think about what's going on with Chris," Leavitt said. "It's a shocker to all of us."
The sheriff's office notes that the facility's staff members are working closely with the Colorado Department of Public Health and Environment's Health Facilities and Emergency Medical Services Division.
"We have been given full authority to run the facility until a conviction," Leavitt said. "We want to keep the residents here as long as we can because this is their home. We're all like family here." Family members also have the option of relocating residents.
The sheriff's office said it began its investigation in August after it was alerted by adult protective services that a Timberline Lodge resident's daughter had expressed concerns about her 83-year-old father's finances. Butler had established himself as a representative payee on the resident's checking account, according to detectives, and then wrote checks out of the resident's account and deposited them into his personal account. Butler used some of the money to pay facility expenses, the sheriff's office said, and also wrote checks out of his own account and deposited money back into the resident's account, a process known as kiting.
Detectives said that more than $475,000 in checks were written to Butler out of the resident's account between January 2009 and December 2015, but based on his contract for services, the resident should have paid about $273,000 during this time.