April 21, 2016
AL owner arrested for resident rape, sexual assault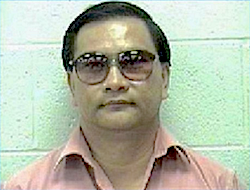 Angel Floro (Benton County Jail)
The owner of an Arkansas assisted living community is out on bond after being arrested April 19 for allegedly raping and sexually assaulting residents.
Angel Floro, owner of New Adams House in Bentonville, AR, is scheduled to be arraigned on two felony counts on June 8 in Benton County Circuit Court. A judge has ordered him to stay away from the facility and its residents. Floro denies the charges against him, according to a report on Arkansas Online.
The Bentonville Police Department said it began investigating Floro, 69, on March 9. A female resident told officers that the previous day, Floro had "entered her room and touched her in a sexual manner," according to a news release issued by the department. The resident said she had experienced similar events twice before and that another female resident also had been affected by Floro's actions. March 21, another female resident told detectives that Floro had "committed a deviate sexual act against her" earlier in the month, according to the news release.
The New Adams House has 24 licensed beds, according to the Arkansas Department of Human Services, and currently is home to about 22 residents, according to the police department. The police department said it continues to investigate other reported incidents related to Floro.