November 09, 2015
Alzheimer's test can diagnose disease decades before symptoms appear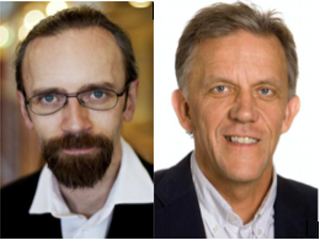 Henrik Zetterberg, M.D., Ph.D., left, and Kaj Blennow, M.D., Ph.D.
A test leading to the diagnosis of Alzheimer's disease 10 to 30 years before symptoms appear has been formally classified as the international reference method, which means that it will be used as the standard in Alzheimer's diagnostics worldwide.
Henrik Zetterberg, M.D., Ph.D., and Kaj Blennow, M.D., Ph.D., of Sahlgrenska Academy at Gothenburg University in Sweden developed the method, which measures the exact amount of beta amyloid in spinal fluid, after decades of research. "If the concentration of beta amyloid in the spinal fluid is abnormally low, it indicates that the protein is sticking in the brain, which is the earliest sign of Alzheimer's disease," Zetterberg explained.
The advance coincides with recent studies that show promising results for different drug candidates that attack Alzheimer's disease and target beta amyloids. "These new drugs will likely prove most effective for persons who have just begun to accumulate beta amyloids in their brain," Blennow said. "Then a well-proven and standardized method becomes crucial, as it ensures that these people are identified in a diagnostically safe and precise manner."