October 12, 2017
Assisted living community reworking disaster plan after leaving resident behind during hurricane evacuation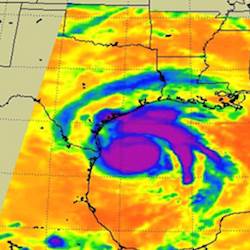 Hurricane Harvey as seen Aug. 25 by an infrared instrument on a NASA satellite. (Photo: NASA/JPL-Caltech)
A Texas assisted living community is changing its disaster preparedness strategy after a memory care resident was left behind during an evacuation in advance of Hurricane Harvey.
A spokeswoman for Vitality Court in Victoria, TX, declined to comment to McKnight's Senior Living. Chris Guay, president and CEO of the Franklin, TN-based company that operates the community, however, told the Victoria Advocate that the community is expanding its training to include natural disasters in addition to fires, is altering the system it uses to count residents during evacuations and ensuring that employees double-check the counts, and will review procedures at least twice a year. Since Hurricane Harvey, he said, employees already have undergone additional training.
The plans come after a resident inadvertently was left at Vitality Court Aug. 25 when, following a city-issued evacuation order, other residents chose either to temporarily move in with their families or were transferred by bus either to a hotel in San Antonio or a memory care community in Austin, TX. Staff soon realized that one resident was missing, and she was found in her room by a volunteer who stayed until police arrived, according to the media report. The woman was taken to a hospital before joining other residents at the other memory care community. Residents returned to Vitality Court on Sept. 2.
The Dallas Morning News published a complaint made to state regulators that said the resident was left in a locked room inside the locked community. A company representative told the newspaper that this evacuation was its first in response to weather conditions.
State officials told the Victoria Advocate that the complaint was released by mistake and that its most recent inspection report of the community is not finished yet. Vitality Court reportedly is submitting a plan of correction based on the incident.
According to the Texas Health and Human Services Commission, Vitality Court is licensed for 109 beds, including 28 certified beds for residents with dementia. It is a "Type B" community, defined as "for residents who require staff assistance to evacuate, are not capable of following directions in an emergency and require nighttime attendance."
The community is owned by VSL Victoria LLC, doing business as Vitality Senior Living. The company also operates Vitality Court Texas Star in Allen, TX.