February 09, 2016
Assisted living, memory care construction big for 2016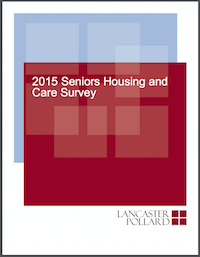 Assisted living, memory care construction big for 2016
Senior housing and care providers will pursue new construction projects in 2016, particularly in assisted living and memory care, according to the results of a new survey of 295 senior living leaders by Lancaster Pollard.
The survey was conducted over two weeks in December. "Overall, our survey findings depict an environment similar to 2014," according to the capital funder.
Seventy percent of survey participants said it is extremely or somewhat likely that they will pursue a new construction project in 2016, down from 80% from the previous survey. Of those who expect to build, however, 41% said they are planning assisted living construction projects, and 40% said they have memory care projects in the works.
Government funding was cited by 30% of respondents as the expected source of debt financing, but loans and bonds were close behind. As for equity sources, internal equity (40%) or private domestic investors (33%) were the most commonly cited sources.
Memory care, assisted living and affordable housing will see the most growth this year, according to respondents. Sixty-one percent of survey participants said they believe that memory care will experience the most growth. The percentages were 42% and 41%, respectively, for assisted living and affordable housing.