July 13, 2017
Assisted living operator involved in record-breaking $1.3 billion healthcare fraud takedown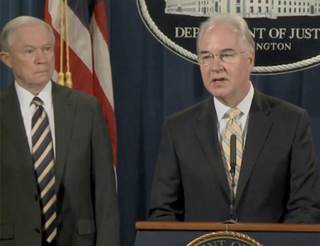 Attorney General Jeff Sessions, left, looks on as HHS Secretary Tom Price, M.D., speaks about the healthcare fraud takedown.
The operator of a Florida home health agency paid kickbacks to the owner of three assisted living communities and others in the state in exchange for referrals to her company that resulted in more than $3 million in fraudulent Medicare payments to her agency, the federal government alleged Thursday in announcing what it said was the largest healthcare fraud enforcement action in Justice Department history.
Officials announced charges against 412 defendants involving approximately $1.3 billion in alleged false billings across 41 federal jurisdictions. In addition to the Medicare Fraud Strike Force, 30 Medicaid Fraud Control Units also were involved in what the government called the 2017 National Health Care Fraud Takedown.
One of the numerous court documents released as part of the announcement details charges against Suley Cao, who co-owned and was president of Good Friends Services, a home health agency in Hialeah Gardens, FL.
Cao allegedly paid kickbacks to the owner of the assisted living communities as well as to one of her employees, the owner of three staffing companies, and someone who recruited patients for several area home health agencies, the indictment said. None of the individuals who allegedly received the payments, which the Justice Department said were made from approximately December 2009 until around September 2013, is named in the document.
"Healthcare fraud is not only a criminal act that costs billions of taxpayer dollars; it is an affront to all Americans who rely on our national healthcare programs for access to critical healthcare services and a violation of trust," Health and Human Services Secretary Tom Price, M.D., said as part of the announcement.
President Donald Trump's 2017 budget request calls for a new $70 million investment to fight healthcare fraud and abuse, he said, adding, "The historic results of this year's national takedown represent significant progress toward protecting the integrity and sustainability of Medicare and Medicaid, which we will continue to build upon in the years to come."
Home health agencies figure into many of the indictments, which target schemes billing Medicare, Medicaid and TRICARE, the health insurance program for members and veterans of the armed forces and their families, for services that were medically unnecessary or were not provided. Many cases, according to the Justice Department, involve patient recruiters, beneficiaries and other co-conspirators who allegedly were paid kickbacks in return for supplying beneficiary information to providers, so that the providers could submit their fraudulent claims.
Also named in the indictments are 115 doctors, nurses and other licensed medical professionals, including more than 120 people alleged to have been involved in prescribing or distributing opioids and other narcotics. HHS has initiated suspension actions against 295 providers, including doctors, nurses and pharmacists, the Justice Department said.
The press conference at which the results of the 2017 National Health Care Fraud Takedown were announced (click the large arrow to start the video, and then click the "x" in the lower right part of the screen to turn on the sound):