October 16, 2016
Assisted living operators look ahead on 10th anniversary of NCAL Day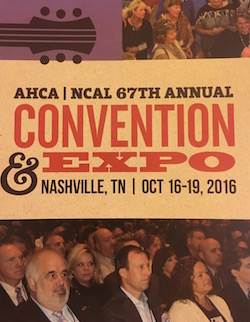 Assisted living operators look ahead on 10th anniversary of NCAL Day
"I can't help but wonder what the next year 10 years will look like. ...What will our profession look like?" Chris Mason, chairman of the National Center for Assisted Living Board of Directors, asked during the opening session of NCAL Day on Sunday in Nashville, TN.
The question, prompted by the fact that NCAL Day is observing its 10th anniversary, may have been rhetorical, but attendees of the event's closing session provided their opinions in answers to a series of multiple choice poll questions posed by speaker and futurist Jim Carroll.
When Carroll asked where assisted living will be in 10 years, 60% said the sector will be "fully and completely disrupted," 37% said it will be "barely recognizable," and 3% said it will be "almost the same with minor changes." Nobody chose the option that assisted living will "exist in about the same form."
When Carroll asked how well the assisted living sector was positioned for success in the future, 51% said "somewhat," 36% said "behind in our ability to keep up," 9% said "extremely well" and 4% said "We're toast!"
To innovate, those in the industry will have to give up their normal excuses, NCAL Day attendees said. Those excuses? Thirty-three percent said they included "We've always done it this way," 27% said "It won't work," 15% said "We don't need to do it right now," 13% said It's too risky," 10% said "I don't think it's necessary," and 2% said "It's against tradition." (At least nobody chose the option: "That's the dumbest thing I've ever heard.")
Speakers during educational sessions during NCAL Day aimed to share knowledge to help operators be innovative and respond to the demands made of the field by the government, residents and their families and others. They discussed trends in state regulations, benchmarking, technology and affordability. A lunchtime event recognized winners of awards for administrating, nursing, caregiving and celebrating National Assisted Living Week, as well as the winner of the Jan Thayer Pioneer Award.
In the opening session, NCAL Executive Director Scott Tittle announced that four new quality measures had been added to the organization's LTC Trend Tracker. (Read more about them here.)
"We're very proud to offer this as a resource, but we need your help to ensure its success," he told audience members. "We don't have the Minimum Data Set like skilled nursing facilities. We can't pull down the data for you." Tittle encouraged members to upload their data. "Otherwise, it's just not as powerful a tool as it can be."
NCAL's focus on quality, advocacy and data collection has spurred a growth in membership, the executive director said. The organization's membership has grown 40% over the past five years and 12% this year alone, thanks in part to NCAL's state chapters, he said. Beds among member organizations now surpass 200,000, he added.
Opening keynote speaker Manny Alvarez, M.D., senior managing health editor for Fox News, said that organizations such as NCAL and others representing various aspects of healthcare are important in educating policymakers.
"This organization is so important because it's your voice. Advocacy, telling people, 'Hey, this industry does do a good job,' " he said. "But we have to be louder."
Alvarez said he has an appreciation for assisted living due to the experience of his mother-in-law; the potential future needs of his son, who has autism; and his youth as a foster child before his parents joined him from Cuba. "I'm a little familiar, as a kid, with living in a place that's maybe not yours, that is others', but if there's the right amount of love, you can overcome the separation," he said.
Below: Opening keynote speaker Manny Alvarez, M.D., senior managing health editor for Fox News, cites a McKnight's Senior Living article while discussing trends in healthcare and aging. Click here to read the article he cited.