June 05, 2018
Assisted living, post-acute providers have 'room for progress' in four key areas, HHS secretary says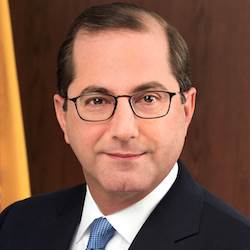 HHS Secretary Alex Azar II
Technology, transparency in price and quality, new models for Medicaid and Medicare, and "removing government burdens that impede care coordination" will help build a healthcare system that addresses the changing needs of the aging population and others, Health and Human Services Secretary Alex M. Azar II told members of the American Health Care Association and National Center for Assisted Living on Tuesday at their Congressional Briefing.
"Within the world of assisted living and post-acute care, there is a great deal of room for progress on the four areas of emphasis I have laid out," he said, telling attendees separately that "the organizations you run will play a key role in the healthcare system over the next several decades."
HHS is home to several government agencies. Efforts by one of them, the Centers for Medicare & Medicaid Services, may more directly affect AHCA members compared with NCAL members, since assisted living primarily is regulated at the state level, although 15% to 17% of assisted living residents are beneficiaries of a Medicaid waiver or state plan reimbursement system, according to NCAL.
In his speech Tuesday, Azar said that a common theme among the four areas he listed "is the recognition that value is not accurately determined by arbitrary authorities or central planners. The best way to identify and reward value is a marketplace of many players — providers, patients and, where necessary, third-party payers."
Two factors necessitate change in America's healthcare system, Azar said.
"One reason is that the finances simply will not work. We need higher-quality, lower-cost settings for caring for older Americans with serious health conditions," he said. "But another factor is that our aging generations will have different expectations, needs and capabilities."
Whereas older baby boomers, like members of generations before them, may move and make major lifestyle changes in retirement, younger boomers want to age in place and are more familiar with technology, Azar said.
"The 'trailing-edge' boomers have challenges as well," he said. "They have higher rates of diabetes, for instance, than older boomers. They will need more healthcare services, especially for chronic conditions, sooner than the earlier boomers did."
But older Americans, as always, will have different wants and needs, and healthcare providers must be able to respond accordingly, Azar said.
"This is especially true when it comes to finding long-term care solutions," he said. "What makes sense for some patients, what makes the later years of their lives healthiest and most meaningful, or what is the preferred setting for someone with significant disabilities, is not going to be the same for everyone."
Nonetheless, Azar said he remains "optimistic" about future changes to the healthcare system.
"Why is that? First, the status quo cannot hold. With the demographic shifts our country is undergoing, the way we do business in American healthcare has to change," he said.
Read Azar's prepared remarks here.
Also at the two-day Congressional Briefing:
AHCA /NCAL bestowed the Leading Light of Long Term Care Award on Sen. Ben Cardin (D-MD) on Tuesday. The groups said they periodically give the award to policymakers "who demonstrate leadership by seeking positive solutions for the seniors and individuals with disability who rely on long-term care." AHCA/NCAL President and CEO Mark Parkinson singled out Cardin's efforts related to finding a permanent solution to the therapy caps exception process.
AHCA / NCAL recognized the recipients of the 2018 Joe Warner Patient Advocacy Award on Monday for their work to educate members of Congress about the needs of long-term and post-acute care residents and patients and to advance quality care. Gerald Coggin, a legislative consultant for National HealthCare Corp., and Dan Holdhusen, director of government relations for the Evangelical Lutheran Good Samaritan Society, were recognized "for their commitment to care for seniors and individuals with disabilities." The award is named for a former president and CEO of Illinois-based Heritage Enterprises.
Read more about the Congressional Briefing here.