April 16, 2017
'Best days are ahead' under Trump, with caveats, financial adviser says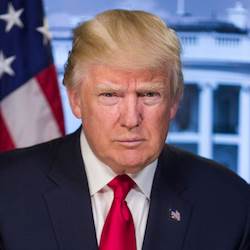 President Donald J. Trump
Good things are ahead for the American economy for the next couple of years under President Trump if smart reforms are put forth and the members of the two major political parties can work with one another, Philip Orlando, CFA, senior vice president of global investment manager for Federated Investors, predicted last week during a conference call organized by Ziegler Wealth Management.
"What we're suggesting," he said, "is that America's best days are not behind us but ahead of us and that doing an intelligent, structural reform of the economy at this time will boost productivity, boost economic growth, boost jobs, boost wages, boost corporate earnings, and ultimately, share prices are going to follow. I think we're in for a good couple of years, but we need to see some progress out of Washington."
Orlando said he expects ultimate success for Trump in the areas of corporate and personal tax reform, deregulation, infrastructure spending and defense spending, but he offered opinions on what direction the government should take in some areas, including immigration and healthcare reform.
Immigration
Of the approximately 11 million people living in the United States illegally, Orlando said, only about 200,000 have criminal records or are perceived as security threats, and these are the people he believes will be targeted for deportation. Eight million work in low-skilled jobs in the elder care, child care, agriculture, hospitality, construction and lawn care industries, he said.
"These are hard jobs, and if these people weren't here filling those jobs, in a lot of cases, they wouldn't get filled. ...I would respectfully suggest that we've got to try to find a way to keep those people here permanently and legally, maybe create a path to citizenship for them," Orlando said.
Such immigration reform is "one of the most controversial areas that we're dealing with right now," he said, but is needed due to low birth rates among people living in the United States legally.
Healthcare
Regarding healthcare, Orlando called former President Barack Obama's original intention to make insurance accessible to more people in the United States "a very good idea," although he added that the Affordable Care Act may not have achieved that goal effectively. Recent efforts to pass the American Health Care Act also were disappointing, he said.
"I was very frustrated to see the Republicans botch this as badly as they did last month. I don't think they thought it through," Orlando said. "I would have done healthcare, frankly, last."
More bipartisan support exists for corporate and personal tax reform, deregulation, repatriation, increased infrastructure and defense spending and immigration reform, he said, adding, "Those things, I think, will drive much stronger gross domestic product growth."
"What I would like to see the Trump administration do is build up some positive momentum while they're working on healthcare and then come out with an intelligent, bipartisan solution to, again, keep healthcare more broadly available but fix the economic problems associated with the current Affordable Care Act," Orlando said. "Going from the ACA to the AHCA, I think, will be a good thing, but they're got to do a better job of getting the details right."
The future
If the president and Congress can enact the aforementioned reforms, Orlando said, then GDP growth could increase to 3% starting in 2018. "And when that happens, we think that corporate earnings are going to follow," he said.
Based on history and various metrics, the next recession may begin at the end of 2020 or in early 2021, Orlando said, adding, however, that he remains optimistic about the economy for now. "We've got plenty of time to evaluate 'recession watch' based on all of the different indicators that we look at," he said.