June 25, 2018
Bill capping punitive damages against facilities fails in Pennsylvania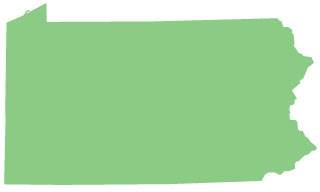 Pennsylvania
A bill to cap punitive damages awarded in lawsuits against assisted living communities, personal care homes and nursing homes was defeated 103-91 Monday in the Pennsylvania House of Representatives.
House Bill 1307 generally called for limiting punitive damages against the facilities, as well as against officers, employees and agents of such facilities acting in the course of their work, to 250% of compensatory damages awarded in relation to the lawsuit.
The legislation would have amended the Medical Care Availability and Reduction of Error, or Mcare, Act, which already imposes limits on punitive damages in lawsuits against physicians. The limit would not have applied in cases involving battery or sexual or physical abuse.
The Pennsylvania Health Care Association, which is the state affiliate of the American Health Care Association / National Center for Assisted Living, was one of the industry organizations that supported the legislation.
"Doctors have had caps on punitive damages at 200% of the amount of compensatory damages in Pennsylvania since 2002," PHCA President and CEO W. Russell McDaid noted in advocacy materials on the group's website. "We are simply asking for similar protections for long-term care facilities."
The proposed law, if passed, also would have charged the Legislative Budget and Finance Committee, three years after the bill's effective date, with studying the impact of the limit on the number of lawsuits filed against assisted living communities, personal care homes and skilled nursing facilities; the amounts of compensatory and punitive awards from settlements and trials; and the percentage of cases involving people who have Alzheimer's disease or another form of dementia.
"We are under attack from predatory, out-of-state law firms who advertise in newspapers across the state, trolling for clients," McDaid wrote. "These law firms advertise in newspapers, file frivolous lawsuits and, in every single case, ask for punitive damages. We have no choice but to settle every case for fear of punitive damage awards."
The cost of defending against unfounded lawsuits is increasing, he said.
"Pennsylvania's Medicaid program spends more than $104 million on liability-related costs every year, and much of that goes to contingency fees to out-of-state, predatory lawyers," McDaid said. "Those Medicaid dollars should be used to provide quality care to our residents. Instead, they go straight into the pockets of out-of-state lawyers. In fact, there are some long-term care providers in Pennsylvania that now spend more [money] on defending these lawsuits than on food for their residents."