June 04, 2018
Bowers recognized with three writing awards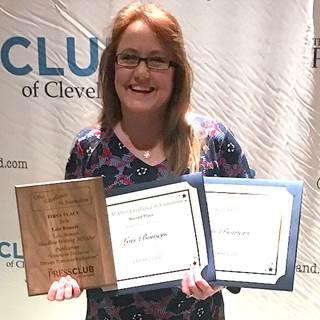 McKnight's Senior Living Senior Editor Lois A. Bowers strikes a pose with her three awards.
McKnight's Senior Living Senior Editor Lois A. Bowers picked up three awards June 1 at the 40th annual Excellence in Journalism Awards ceremony.
The contest, organized by the Press Club of Cleveland, was open to all professional journalists working in or publishing in Ohio via daily and other newspapers; consumer, trade, professional and business publications; radio; television; and websites.
"This year we had 750-plus entries, judged by Press Club members in Idaho, Los Angeles, Milwaukee, New Orleans, Orange County, San Diego, Southeast Texas, Syracuse and Western Pennsylvania," said Press Club of Cleveland President Thom Fladung, managing partner of Hennes Communications and former managing editor of the Cleveland Plain Dealer.
Bowers won first place in a Headline Writing category open to magazines, Sunday magazines, alternative publications, trade and professional publications and business publications. Her winning headline was "Operator initiative drives turnover reduction," from a Feb. 8, 2017, online article.
She also won second place in the Trade Publications – Departments or Columns category for the Editor's Column that appears in the print edition of McKnight's Senior Living and second place in the Digital Media – Blogs category for a column in which she shared fire safety tips from two experts in the wake of two large fires at senior living communities.