June 30, 2016
California top state for wealthy older renters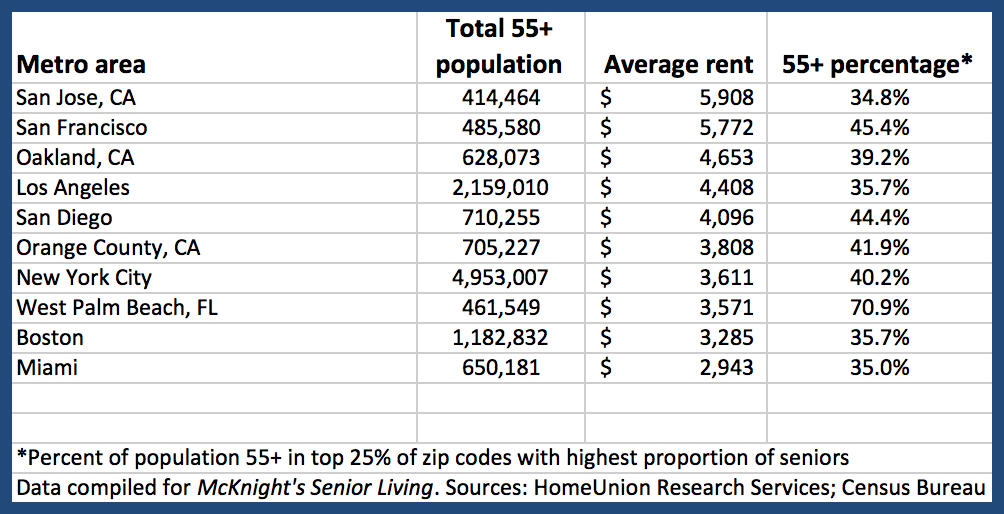 California dominates the list of the most expensive places for renters-by-choice that also have high populations of adults aged more than 55 years, according to new data provided exclusively to McKnight's Senior Living by online real estate investment management firm Home Union.
HomeUnion, based in Irvine, CA, analyzed zip codes where more than 25% of the submarket's real estate is rental stock, and those households have a median income in the 75th percentile, according to data compiled by HomeUnion, the U.S. Census Bureau and Maponics. Of those zip codes, the list compiled for McKnight's Senior Living details the 10 metropolitan areas with the highest percentage of residents aged at least 55 years.
California locations had top six spots on the list.
The results of the overall research reflect an ongoing shift in preference from homeownership to renting among the more affluent segment of the U.S. population, according to Steve Hovland, director of research for HomeUnion. "An increasing number of people are renters by choice, opting to live within walking distance or a short commute of their office building, workplace, university, community services or nightlife, instead of the suburbs."
Renter households grew by nearly 9 million from 2005 to 2015, the largest increase in any 10-year period on record, according to data from the Joint Center for Housing Studies of Harvard University. As of the end of 2015, about 32% of U.S. households occupied rental housing.