September 15, 2016
CDC: More than one-third of those 75+ not physically active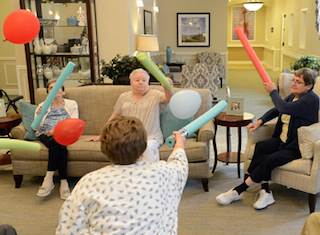 Unlike these residents, a new CDC study finds that 35.3% of people aged 75 or more years are not physically active. (Photo by John Merkle)
A new study from the Centers for Disease Control and Prevention finds that 26.9% of people aged 65 to 74 years and 35.3% of people aged 75 or more years are not physically active beyond the basic movements needed for daily life activities.
"More work is needed to make it safer and easier for people of all ages and abilities to be physically active in their communities," said Kathleen B. Watson, Ph.D., an epidemiologist in the CDC's Division of Nutrition, Physical Activity and Obesity and lead author of the report, published in Thursday's "Morbidity and Mortality Weekly Report."
CDC researchers analyzed data from the 2014 Behavioral Risk Factor Surveillance System for all 50 states and the District of Columbia to examine patterns of inactivity among adults aged 50 or more years by selected characteristics. They found:
31 million Americans (28%) of those aged 50 or more years are inactive.
The rate of inactivity was 25.4% for adults aged 50 to 64 years.
Inactivity was higher for women (29.4%) than men (25.5%).
The percentage of inactivity by race and ethnicity varied: Hispanics (32.7%), non-Hispanic blacks (33.1%), non-Hispanic whites (26.2%) and other groups (27.1%).
More adults with at least one chronic disease were inactive (31.9%) compared with adults with no chronic disease (19.2%).
By region, inactivity was highest in the South (30.1%) followed by the Midwest (28.4%) and the Northeast (26.6%). Inactivity was lowest in the West (23.1%).
By states and Washington, D.C., the percentage of inactivity ranged from 17.9% in Colorado to 38.8% in Arkansas.
The percentage of inactivity decreased as education increased and also increased as weight status increased.
"Adults benefit from any amount of physical activity," said Janet E. Fulton, Ph.D., chief of CDC's Physical Activity and Health Branch and one of the authors of the report. "Helping inactive people become more physically active is an important step towards healthier and more vibrant communities."
The benefits of physical activity, according to the CDC, include a reduced risk of premature death and the possible delay or prevention of chronic diseases such as heart disease, type 2 diabetes, dementia and some cancers. Being physically active also helps older adults maintain the ability to live independently and reduces their risk of falling and fracturing bones, the agency noted.
The CDC website offers information about exercise and older adults.