May 03, 2017
CNA accused of using work Wi-Fi to download, share child pornography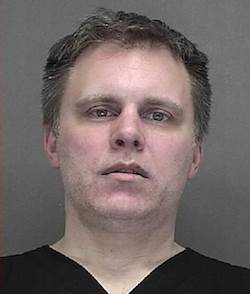 Christopher Anderson (Brown County Sheriff's Department)
A certified nursing assistant who worked the overnight shift at a Wisconsin assisted living community faces felony charges for allegedly downloading, watching and sharing child pornography from his personal computer using the community's Wi-Fi network during work hours.
A May 22 arraignment has been set for Christopher Anderson, 43, according to court records.
Anderson, who worked at Allouez Parkside Village in Green Bay, WI, originally was arrested and charged in March with 10 counts of possession of child pornography. Investigators seeking the location of a computer where child pornography allegedly was downloaded on Feb. 24 said they traced the computer's IP address to the senior living community, according to Fox11online.com, which cited a criminal complaint. Anderson's supervisor told investigators that Anderson was working on the night in question, the article stated.
Police obtained a search warrant for Anderson's home, according to the website, and allegedly found several electronic devices with additional child pornography there. They also allegedly found two videos, shot in November 2014, of a man sexually assaulting an 11-year-old girl, and one video, shot about a month later, of Anderson sexually assaulting the girl's mother, who may have been unconscious at the time, the media outlet reported.
Police allege that Anderson recorded the videos. In addition to the other 10 counts, he faces two counts of first-degree child sexual assault, one count of child sexual exploitation, two additional counts of possession of child pornography, one count of second-degree sexual assault/unconscious victim, and one count of capture an image of nudity without consent.
Anderson had been employed at Allouez Parkside Village since June 2016, according to Fox 11. A spokeswoman for the community told McKnight's Senior Living that the community had no comment.