July 17, 2016
Couple accused of bilking 13 assisted living investors out of $500,000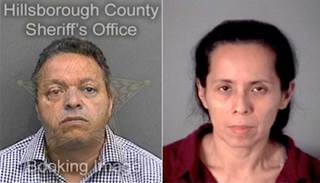 Miguel Angel Perez and Maritza Belinda Perez
A Florida husband and wife have been arrested for allegedly defrauding at least 13 people out of a total of $500,000 they thought was being invested in an assisted living community, the state's Office of Financial Regulation announced Friday.
Miguel Angel Perez and Maritza Belinda Perez were charged with organized fraud, grand theft and mortgage fraud.
The alleged victims purportedly were offered the opportunity to invest in a Clearwater assisted living facility at real estate investment seminars held at various Tampa Bay area hotels. The facility, according to the OFR, never came into operation. Instead, the couple allegedly used much of the funds they collected from seminar attendees to buy a home in New Port Richey and to cover other personal living expenses.
The OFR said it opened the investigation after receiving a complaint from a potential investor.