June 01, 2017
Debt collection, credit cards irk older adults, CFPB report says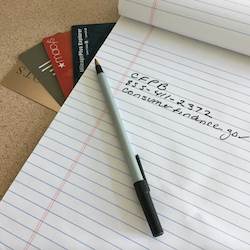 Debt collection, credit cards irk older adults, CFPB report says
Debt collection and credit cards have been two of the top focuses of complaints that older adults made to the Consumer Financial Protection Bureau since the independent government agency was founded in 2011, according to a new report released Wednesday.
Debt collection has been responsible for 25% of the complaints in that time made by people identifying themselves as being 62 years old or older, and credit cards have accounted for 14% of their complaints.
Older adults are unique in that they more often turn to credit cards when they have an unexpected expense, which often was medical-related, and then later were confused about the terms of the credit card, according to the CFPB.
"When opening these credit accounts, older consumers reported not understanding the terms and conditions, such as the distinction between deferred interest and no interest," the report authors said. "Months after charging these expenses, these consumers described being confused by the balances of their accounts."
Since July 2011, billing disputes have been the largest percentage of credit card complaints for this age group, at 19%, compared with the 14% for the population under 62. Other credit-card related complaints focused on identity theft, fraud, and unwanted subscription services such as credit monitoring, according to the CFPB.
Mortgages edged out debt collection as the largest source of complaints for older adults registering complaints with the CFPB, accounting for 26% of complaints since 2011. Other types of complaints for older adults involved credit reporting (13%) and bank accounts and services (12%).
Over the years, mortgages and credit cards have been larger issues for people aged 62 or more years, whereas debt collection and credit reporting have been larger issues for the population aged fewer than 62 years. People under 62 had complaints regarding mortgages 16% of the time and credit cards 9% of the time, according to the CFPB.
The bureau's May monthly complaint report also details complaints from the month of March, the most recent month for which data and available, and shows higher complaint rates for mortgages and credit cards for those aged 62 or more years compared with those types of complaints from the rest of the population.
The month of March saw 2,200 complaints from those who reported their age as 62 or older. Overall, the CFPB received 103,100 from older consumers.
For this month, the highest number of complaints were regarding debt collection (496), mortgages (486), credit reporting (326) and credit cards (294).