March 08, 2018
Earn up to 5 CE credits when McKnight's Online Expo returns next week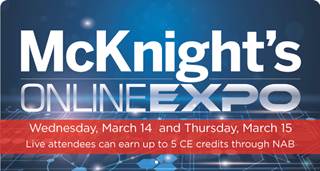 McKnight's Online Expo
Earn up to five free continuing education credits by attending the sessions at McKnight's Spring Online Expo, set for next Wednesday and Thursday. This is the 12th year for the event.
Presented by McKnight's Long-Term Care News, which is the sister media brand to McKnight's Senior Living, the event includes webcasts in five tracks covering new funding sources, active shooter preparation, malpractice risks, telehealth and payment models.
The roster of presenters:
Leah Klusch, RN, BSN, FACHA, executive director of the Alliance Training Center;
Ilene Warner-Maron, Ph.D., RN-BC, CWCN, CALA, NHA, FCPP, a consultant and federal monitor with David Hoffman and Associates;
Emily H. Wein, attorney and shareholder at Baker Donelson;
JoAnne Carlin, MSN, RN, NHA, CPHRM, CDAL, vice president of Clinical Risk Services; and
Beth Burnham Mace, chief economist for the National Investment Center for Seniors Housing & Care.
In addition to earning credits, participants can network with industry colleagues and visit a virtual exhibition hall with online booths offering product information, videos and white papers.
The free online expo opens at 10:30 a.m. ET on March 14, with the first webinar starting at 11 a.m. ET. To register or learn more about the event, visit www.mcknights.com/expo2018.