September 29, 2016
EEOC summary pay data collection to begin in March 2018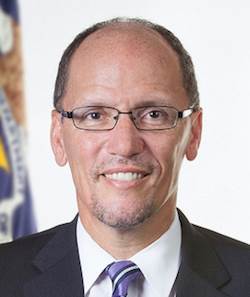 Thomas Perez
The U.S. Equal Employment Opportunity Commission will begin collecting summary employee pay data from some employers in March 2018, the commission announced Thursday.
Businesses with 100 or more employees that submit the Employer Information Report, also known as the EEO-1 report, will be required to submit summary data by pay ranges and hours worked in addition to the workforce data by race, ethnicity, sex and job category that employers have sent to the EEOC via the form for more than five decades. Employers will not report individual pay or salaries or any personally identifiable information, but the new summary data will help the EEOC investigate possible pay discrimination, according to the commission.
"Collecting data is a critical step in delivering on the promise of equal pay," U.S. Secretary of Labor Thomas E. Perez said in a statement. "Better data will not only help enforcement agencies do their work, but it helps employers to evaluate their own pay practices to prevent pay discrimination in their workplaces."
Employers and others had until Aug. 15 to comment on the EEOC's revised proposal to collect the data. The EEOC said it determined the the first deadline for the 2017 EEO-1 report based on the feedback it received. The deadline gives employers 18 months to prepare. The 2016 EEO-1 report deadline remains Sept. 30, 2016.
The EEOC has posted additional information about the summary data collection on its website. The commission will offer free webinars on the topic on Oct. 20 and Oct. 26. Technical assistance also will be available through the EEOC's hotline and email.