November 07, 2017
Effects of Holiday management transition lingered in third quarter, New Senior says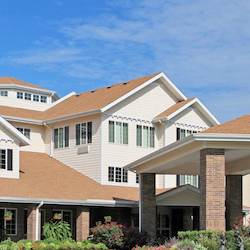 Detail from the cover of New Senior Investment Group's third quarter investor presentation. Pictured is Kingwood Senior Living at Cypress Woods in Kingwood, TX.
Holiday Retirement's operating model change from live-in property managers to more traditional executive directors continued to affect occupancy in New Senior Investment Group's independent living portfolio in the third quarter, the real estate investment trust's executives said Friday during a third quarter earnings call. But things are looking up, they said.
The change affected 90% of the REIT's independent living portfolio, Managing Director David Smith said.
For New Senior's managed portfolio, same store average occupancy decreased 170 basis points to 87.3% compared with 89% for the same quarter in 2016. Same store triple net average occupancy decreased 220 basis points to 88.3%, compared with 90.5% for the third quarter of last year.
"Since completion of the conversion in April, our same-store independent living portfolio has realized occupancy increases every month, with a total increase of 160 basis points from April to September," Smith said. "We continue to believe that this model change will positively impact property performance over the long term."
In other news, New Senior recorded $1.5 million in expenses related to Hurricane Irma, according to Bhairav Patel, interim chief financial officer, treasurer and chief accounting officer. The expenses primarily were for damage remediation and other incremental costs. Twenty-five of the company's properties were affected by the storm, he said.
CEO Susan Givens discussed the previously announced sale of $296 million in Life Care Services and Holiday communities in Florida and Texas. The properties include both managed and leased assets, she said.
"We actually closed the managed portfolio sale on Nov. 1, which was $109.5 million for nine assisted living memory care assets in Florida," Givens said. Those properties had been managed by Holiday.
"This has significantly advanced our stated objective of pruning our assets to enhance the overall quality of our portfolio in a number of key areas," Givens said. "The sale of the nine managed assets removed several non-core and underperforming assisted living memory care assets our portfolio."
Givens said that if the recently sold managed portfolio assets are excluded, occupancy would increase 70 basis points, revenue per occupied room would increase 2.4% and the net operating income margin would improve 140 basis points.
The other transaction under contract, a portfolio of six triple net lease properties being sold for $186 million, is expected to close by the end of the year, she said. New Senior also is terminating the related lease with LCS. The properties include four continuing care retirement communities, an assisted living / memory care community and an independent living community. The properties had seen significant occupancy and earnings declines since New Senior acquired them, the REIT previously said.
"The sale of the six leased properties will eliminate our lowest-covering triple net leased portfolio and would improve third-quarter [earnings before interest, taxes, depreciation, amortization, rent and management fees] coverage from 1.16 times to 1.18 times," Givens said.
The sales also will increase the REIT's independent living exposure from 73% to 81%, she said, and will improve geographic diversification by reducing the net operating income concentration in the REIT's top three states (Florida, Texas and California) from 39% to 32%.
The $110 million in net proceeds from the sales will give New Senior funds for new investments and other initiatives, Givens said. "We're actively evaluating new opportunities for the redeployment of the proceeds, which could include new investments, paying down debt and/or buying back stock," she said.
Also, during the call, executives shared the following:
For the company's managed portfolio, same store cash net operating income was down 6.6% year-over-year, primarily due to weakness across the assisted living portfolio, Givens said.
Across the portfolio, operators "continued to realize strong rate increases of just over 3% on existing residents, which was partially offset by the continued use of rent discounts and incentives on new resident rates, which were down roughly 1%," Smith said.
Total expense growth for the third quarter was 4% year-over-year. Per-resident labor costs increased by 3.6%, consistent with second-quarter results. "We again saw labor cost pressures in markets with new supply, along with more pressure in our assisted living assets versus our independent living portfolio," he said.
Rate increases on existing residents allowed New Senior to partially offset labor expense increases as well as a decline in year-over-year occupancy, Patel said.
New supply remains elevated but continues to decrease in the markets where Nw Senior has a presence. "Since the third quarter of 2015, when we began providing this information, our new supply exposure has reached a low point this quarter, with 14.8% of our total net operating income exposed to new supply," Smith said.
New openings decreased significantly in the third quarter but New Senior expected elevated levels through early 2018. "We do remain optimistic, as approximately 90% of these openings are for assisted living properties, whereas our portfolio is predominately independent living," he said.