February 04, 2018
Elderly HUD housing residents could see 5% income threshold increase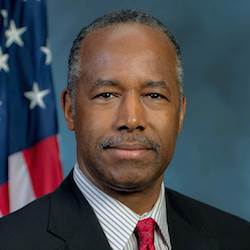 HUD Secretary Ben Carson
The Department of Housing and Urban Development is considering raising the income threshold by 5% for elderly and other residents of federally subsidized housing and setting a work requirement for younger aid recipients, according to draft legislation reviewed by The Intercept and City Lab.
Whatever they are, HUD's proposed changes for public housing and housing choice vouchers are expected to be part of President Trump's fiscal year 2018 budget set to be released later this month.
Since 1981, rent for most households receiving federal housing subsidies has been calculated at 30% of recipients' adjusted income — gross income minus deductions for the elderly and disabled ($400 per year), dependents, child care, or medical and disability expenses, The Intercept reported.
The draft legislation, however, would make changes to the U.S. Housing Act of 1937 and subsequent acts in 1959 and 1990, eliminating all four deductions, according to the publications. Instead, recipients would pay either 35% of gross household income or 35% of wages from 15 hours a week for four weeks at the federal minimum wage, whichever amount is higher. Additionally, public housing authorities could require that recipients who are not elderly or disabled work up to 32 hours per week.
Diane Yentel, president and CEO of the National Low Income Housing Coalition, told City Lab that most voucher holders and public housing residents are elderly, disabled or live in households where someone has a low-paying job. "Of the remaining households, almost half include a preschool child or an older child or adult with a disability who needs the supervision of a caregiver," she said.