May 17, 2018
Exercise may worsen cognitive impairment in those with dementia, study finds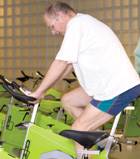 Exercise may worsen cognitive impairment in those with dementia, study finds
Moderate to high-intensity exercise does not slow and in fact may hasten cognitive decline in older adults who have dementia, according to the results of a study published Wednesday in The BMJ. The findings contradict the results of some earlier studies.
"This trial suggests that people with mild to moderate dementia can engage and comply with moderate to high-intensity aerobic and strengthening exercise and improve physical fitness," the authors said. "These benefits do not, however, translate into improvements in cognitive impairment, activities in daily living, behavior or health-related quality of life."
The U.K. researchers based their conclusions on their study of 494 community-dwelling people (average age, 77 years) who had mild to moderate dementia. They assessed participants' general health and fitness at the beginning of the study and randomly assigned them either to a supervised exercise and support program or to usual care.
Those in the exercise program participated in 60- to 90-minute group sessions in a gym twice a week for four months, plus home exercises for another hour each week, with ongoing support.
Based on scores on the Alzheimer's Disease Assessment Scale-cognitive subscale, or ADAS-cog, the researchers found that cognitive impairment declined over a 12-month period in both groups.
Those in the exercise group experienced improved physical fitness in the short term but had higher ADAS-cog scores at 12 months compared with members of the group receiving usual care, which indicated worse cognitive impairment. The average difference was small, and the clinical relevance is uncertain, however, according to the investigators.
Exercise was not helpful in falls prevention or quality of life improvement, either, the study found; no differences were found between the two groups in these regards, which surprised researchers.
"We anticipated at least a benefit in functioning in activities of daily living given broader knowledge about the effects of improved physical fitness," they wrote.
So why have some other studies found exercise to be beneficial to cognition in those with dementia? The authors noted that many of the previous studies were small, making them "more likely to draw erroneous conclusions." Or some studies may have involved less exercise, they said, or may have included both physical exercise and cognitive training, "making it difficult to isolate the effectiveness of different elements of the training program." Researchers involved in several other relatively large studies have reported that exercise had no effect on global cognition, the U.K. researchers added.
The new study had its own limitations, they said. Participants and their caregivers knew which study group they were assigned to, for instance, and the investigation's period of structured exercise may have been too short to yield positive benefits. Strengths compared with previous trials, however, included a substantially larger sample size, meaning results could be more accurate, and high levels of follow-up, the authors said.
Even healthy people can have negative short-term effects of high-intensity training, they said, Future trials, they added, should explore other forms of exercise.