August 22, 2016
FDA fast-tracks Alzheimer's drug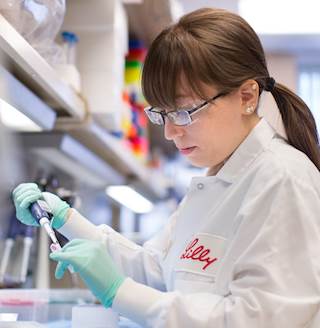 A researcher works in a Lilly laboratory. (Photo courtesy of Eli Lilly and Co.)
The FDA has granted fast-track status to a drug, being called AZD3293 for now, that is in clinical trials for Alzheimer's disease, according to Eli Lilly and Co. and AstraZeneca, the developers of the medication.
The designation, which must be requested by pharmaceutical companies, is granted to speed the development and review of drugs that would "treat serious conditions and fill an unmet medical need," so that they might become available to patients sooner than they would be if they went through the usual review and approval process, according to the FDA.
Now that AZD3293 has been granted fast-track status, the drug companies will be eligible for more frequent meetings and written communication with the FDA to discuss the medication's development and testing as well as an expedited review and approval process if relevant criteria are met.
"We are pleased the FDA places a high priority on the development of drugs that target Alzheimer's disease, one of the most critical health issues of our time," Phyllis Ferrell, vice president and global development leader for Alzheimer's disease at Lilly, said in a statement. "Most importantly, this is a positive step forward for the millions of patients, families, caregivers, advocates and healthcare providers who fight every day for progress."
Under the terms of an alliance that AstraZeneca and Lilly announced in 2014, Lilly is leading clinical development of the drug, working with researchers from AstraZeneca, and AstraZeneca will be responsible for manufacturing. The companies have agreed to assume joint responsibility for commercialization of the molecule and to share all future costs equally for development and commercialization, as well as net global revenues after the drug's launch.
AZD3293 is an oral beta secretase cleaving enzyme, or BACE, inhibitor, a class of drugs that "have the potential to transform the treatment of Alzheimer's disease," said Craig Shering, AZD3293 project lead in global medicines development at AstraZeneca.
Investigators believe that inhibiting BACE could prevent the formation and buildup of amyloid plaque, which, in turn, may help slow the progression of Alzheimer's disease. Studies to date, according to the companies, have demonstrated that AZD3293 reduces levels of amyloid beta in the cerebrospinal fluid of people who have Alzheimer's disease as well as in healthy volunteers.