November 07, 2016
Former nurse's aide gets 65-year sentence for thefts from residents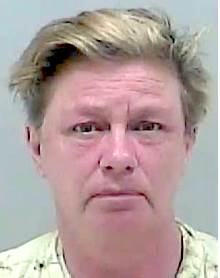 Susan Gwynne (Delaware County Prosecutor's Office)
A former nurse's aide who pleaded guilty to burglary, theft and receiving stolen property after investigators found 3,000 items at her Ohio residence that they said came from area senior living residents was sentenced to 65 years in prison on Monday.
Susan Gwynne had been indicted on 101 counts in June and in September pleaded guilty to 46 of them, one for each resident included in the indictment. Her victims were residents of 13 senior living communities in two counties in the Columbus, OH, area, according to authorities.
"Susan Gwynne took advantage of her knowledge of assisted living," Franklin County Prosecutor Ron O'Brien said in a statement. Gwynne, a former senior living community employee, reportedly wore medical scrubs and an identification badge and carried a notebook and large purse as she entered and exited rooms in the communities.
Charges against her came after a January call to authorities reporting that personal items were missing from a resident at the Inn at Olentangy Trail, an assisted living and memory care community in Delaware, OH.
"After the initial call, the Delaware County Sheriff's Office released a picture of the suspect, which had been captured on surveillance video at the assisted living facility," Delaware County Prosecutor Carol O'Brien said in an earlier statement. After the sheriff's office posted the photo on its Facebook page, someone identified her, and additional people reported missing items. Investigators obtained a search warrant and found 3,000 items, mostly pieces of jewelry, at Gwynne's residence.
A restitution hearing is planned for Nov. 23.