September 21, 2017
Former senior living executive's bankruptcy might jeopardize $86 million investor repayment plan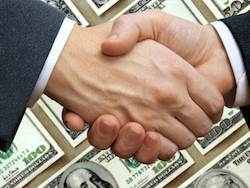 Former senior living executive's bankruptcy could jeopardize $86 million investor repayment plan. (Photo is cover detail from 2010 McKnight's Dealmaker's Handbook)
An Atlanta-based businessman accused by the U.S. Securities and Exchange Commission of misusing investor funds raised to purchase and renovate senior living facilities has filed for bankruptcy, calling into question his ability to fulfill an agreement to repay investors more than $86 million.
Christopher Brogdon and his wife, Connie, the targets of a November 2015 SEC action, filed for Chapter 11 bankruptcy on Sept. 15, according to Peiffer Rosca Wolf, a law firm that in August 2016 filed a class action lawsuit to recover money lost by investors. Peiffer Rosca Wolf's case is pending in the U.S. District Court for the District of New Jersey.
In its original 2015 complaint, the SEC said Brogdon amassed almost $190 million through dozens of municipal bond and private placement offerings in which investors purportedly earned interest from revenues generated by the assisted living community, nursing home or other retirement housing projects supported by their investment.
"Brogdon falsely promised investors they were investing in specific senior living projects when in reality they also were funding his personal expenses and other businesses, including some that are struggling financially," Sanjay Wadhwa, senior associate director of the SEC's New York regional office, said at the time the action was announced. The complaint named Connie Brogdon, son Tygh and several of Brogdon's business entities as relief defendants for the purpose of recovering the alleged ill-gotten gains plus interest for investors.
In December 2015, Brogdon was ordered to submit a repayment plan to a court-appointed monitor the next month. If the plan did not completely cover what was owed investors, then additional funds would be taken from his or his wife's personal assets, Judge Kevin McNulty of the U.S. District Court for the District of New Jersey wrote in his order.
Brogdon subsequently agreed to repay more than $86 million to investors, according to the SEC.
"The impact of the Brogdon bankruptcy on that plan is uncertain at this time," Peiffer Rosca Wolf said in a statement.
See the articles below, under "Related Articles," for more information related to this case.