February 17, 2016
Forum reveals top issues for senior voters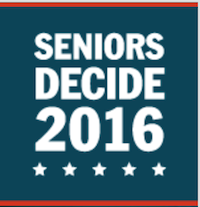 Forum reveals top issues for senior voters
The economy is the most important issue to all voters, including Americans aged more than 65 years, according to a speaker at the Seniors Decide 2016 forum. The Feb. 17 online and in-person event was organized by the Leadership Council of Aging Organizations, a coalition of 72 national nonprofit aging advocacy organizations, among them LeadingAge and the Paraprofessional Healthcare Institute.
Unlike with other voters, however, terrorism and security also remain very high-priority issues for older Americans, said Jonathan Voss, a senior analyst with Lake Research Partners. Also important, not surprisingly, are Social Security and Medicare, he added, noting, however, that Social Security isn't as "top of mind" as it was formerly because seniors don't perceive it as being "under attack."
Regarding Medicare, research shows that older Americans are "wildly satisfied" with the program and don't want benefits cut, Voss said. But seniors do want the government to negotiate for lower prescription drug prices.
Issues of increasing importance to Americans aged at least 65 years are government reform, campaign contributions and redistricting, Voss added.
Another speaker, Bob Carpenter, founder of Chesapeake Beach Consulting, said that only one or two presidential candidates have pages on their campaign websites where they explain their positions on matters of interest to older Americans. "We need to do a better job of pressuring the candidates on where they stand," he said, noting that seniors are a large voting bloc.
Voters aged between 50 and 64 years, Carpenter said, worry whether Social Security will be available to them at the level they expect when they retire. Stock market instability, Voss added, is generating concerns about the economy among members of this age group, especially as their time to save for retirement dwindles. "They see this volatility, and there's not much they can do about it," he said.
LCAO Chairman Max Richtman noted that all of the political candidates were invited to speak at the forum, but only two, Gov. John Kasich of Ohio, a Republican candidate, and Sen. Bernie Sanders of Vermont, a Democrat, accepted.
Kasich sent former U.S. Rep. Tom Davis to represent him in person at the Arlington, VA, campus of George Mason University. Davis noted Kasich's acceptance of Medicaid funding under the Affordable Care Act as Ohio governor, which he said has supported long-term services and supports in the state. He also said that, although "we'll have to make some tough changes" to Medicare, Kasich has pledged not to make changes that would affect current beneficiaries.
Sanders closed out the forum, appearing via Skype. He noted his role in convening the Defending Social Security Caucus in the Senate and his efforts to expand the Older Americans Act, saying he is a "strong advocate" of the legislation. Sanders also said that among his goals as president, if elected, would be increasing the taxable earnings amount for Social Security from $118,500 to to $250,000, which he said would extend the life of the program by 58 years and enable the expansion of benefits for those earning less than $16,000.
Sanders also said he supported improving and expanding Medicare benefits to offer comprehensive coverage, including vision, dental and hearing care, to all Americans, and that he also would work to lower prescription drug prices, support Alzheimer's disease research and protect family caregivers of those who have Alzheimer's.
"At the end of the day, we judge our nation by how we treat our most vulnerable people, and that includes seniors and children," Sanders said.