December 15, 2017
Friendships help inoculate residents against mental decline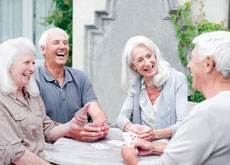 Friendships help inoculate residents against mental decline
Healthy interpersonal relationships help keep aging brains healthy, suggests a new study by Northwestern University researchers.
Investigators asked 31 so-called SuperAgers and 19 cognitively "normal" older adults to fill out a questionnaire. The SuperAgers (those with unusually robust physical and mental capacities) were far more likely to report that they enjoyed satisfying, warm, trusting relationships.
"Social relationships are really important" to this group and might play a significant role in preserving their mental capacities, said Emily Rogalski, Ph.D., a professor at the school.
These findings align with previous studies linking positive relationships to a reduced risk of cognitive decline, mild cognitive impairment and dementia. The full study appears in PLOS One, an open access scientific journal.