January 17, 2017
GAO targets improper Medicare, Medicaid payments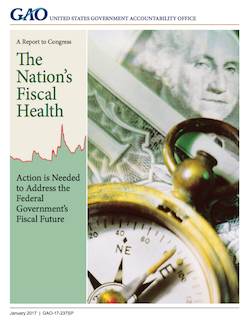 GAO targets improper Medicare, Medicaid payments
Reducing improper payments made from the Medicare and Medicaid programs is a big step that the federal government can take to improve the country's long-term fiscal health without legislative action, the Government Accountability Office said in the first of what it expects to be annual reports on the United States' financial future.
In fiscal year 2016, 112 programs across 22 agencies made more than $144 billion in improper payments — payments that should not have been made or that were made in an incorrect amount, according to the report, which was released Jan. 17. Improper Medicare and Medicaid payments were the largest contributors to that number, with improper Medicare payments accounting for approximately 41% of the total ($59.7 billion) and improper Medicaid payments totaling approximately 25% of the amount ($36.3 billion).
"Federal spending for Medicare and Medicaid is expected to significantly increase, so it is especially critical to take appropriate measures to reduce improper payments in these programs," the report authors wrote.
In additional to agency action, policies — in healthcare-related areas and elsewhere — also will need to be changed via legislation, according to the report, because federal spending continues to outpace revenue.
"Healthcare expenditures and net interest are now the main drivers of growing federal spending, and without policy changes, the debt-to-[gross domestic product] ratio is projected to reach historic levels within 15 to 25 years," said Gene L. Dodaro, comptroller general of the United States.
Watch the GAO video below and read the report for additional information.