December 07, 2017
GOP lawmakers say they will seek Medicare, Medicaid changes next year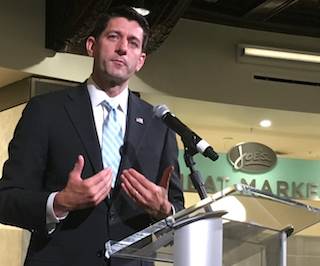 House Speaker Paul Ryan (R-WI) speaks at a 2016 event during the Republican National Convention in Cleveland. (Photo by Lois Bowers)
While Republicans in the Senate and House of Representatives work to reconcile their two versions of a tax reform bill that analysts say could add more than $1 trillion to the federal deficit over 10 years, GOP lawmakers are signaling plans for 2018 to reduce spending on Medicare and Medicaid.
Wednesday on a talk radio show, House Speaker Paul Ryan (R-WI) said such "entitlement reform" would help reduce the federal debt and deficit.
"Frankly, it's the healthcare entitlements that are the big drivers of our debt," he told host Ross Kaminsky, "so we spend more time on the healthcare entitlements, because that's really where the problem lies, fiscally speaking."
House Ways and Means Committee Chairman Kevin Brady (R-TX), Senate Finance Committee Chairman Orrin G. Hatch (R-UT), House Financial Services Committee Chairman Jeb Hensarling (R-TX) and Sen. Marco Rubio (R-FL) also recently have expressed to media outlets a desire to address fiscal issues through a reduction in federal healthcare and welfare program spending. Although President Donald Trump campaigned against cutting Medicare and Medicaid benefits, Ryan told Kaminsky that the president is starting to understand why the idea is appealing to other Republicans.
Sen. Ron Wyden (D-OR) recently said that Republicans may use the deficit caused by the tax bill as a pretext for seeking cuts to Medicare, Medicaid and other programs, but the ultimate fate of the recent tax reform efforts is not guaranteed. Sen. Bob Corker (R-TN) voted against the bill because of the amount by which it would raise the deficit. Thursday, Sen. Susan Collins (R-ME) told a television station that her vote in favor of the Senate version could change if amendments she was promised would be included in the reconciled version do not make the final cut.
Collins' two amendments allowed property tax deductions on annual federal filings and temporarily lowered the threshold for deductions for medical expenses.
Meanwhile, also Thursday, Congress voted to delay a possible government shutdown for at least two more weeks by passing a bill that extended government funding through Dec. 22. The bill now goes to the president's desk. Without action, the shutdown would have occurred Friday.