April 24, 2016
Guest worker bill could ease staffing shortages, group maintains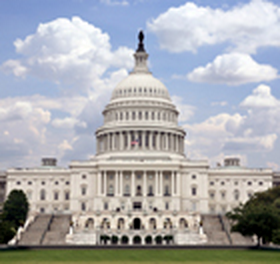 The U.S. Capitol
A newly proposed guest worker program could help ease staffing shortages in senior living, according to one organization representing providers.
S. 2827, introduced by U.S. Sen. Jeff Flake (R–AZ) and referred to the Senate Finance Committee on April 20, would create a 10-year pilot program that would make it easier for foreign nurses and other healthcare workers to be employed in the United States, the American Health Care Association said April 22.
The bill, also known as the Willing Workers and Willing Employers Act, "creates a guest worker program with a smart, market-based approach that will meet the care needs of our residents and patients," said Clifton J. Porter II, senior vice president of government relations for AHCA and the National Center for Assisted Living. Recruiting, training and retaining caregivers is the biggest challenge facing the industry, he added.
The proposed program is designed to address the gap that exists between temporary visa programs for seasonal workers and the H-1B visa program for highly skilled immigrants, Flake said. It would:
Apply only in counties and metro areas where the unemployment rate is less than 5%.
Admit workers to the United States who have less than a bachelor's degree to do year-round, non-farm work.
Create a flexible cap for registered positions ranging from 65,000 to 85,000 a year to match economic demand.
Require that employers seek an available U.S. worker before using a guest worker.
Enable workers to change jobs and work for any employer who has tested the labor market and proved that it is unable to hire an American worker for the position.
Require employers to use E-Verify, an Internet-based system designed to enable businesses to determine the eligibility of potential hires to work in the United States.
Require that a study be conducted during the pilot to determine the program's effects on wages, employment, economic growth, welfare use and government services. Results would help determine whether the program would be continued.
AHCA, the National Multi Housing Council, the National Apartment Association and the National Association of Home Builders are some of the 37 members of the Essential Worker Immigration Coalition, which has worked with members of Congress to draft immigration reform legislation.
GovTrack.us, a website not affiliated with the federal government, gives S. 2827 a 4% chance of getting out of committee and a 1% chance of ultimately being enacted. "Only 15% of bills made it past committee and only about 3% were enacted in 2013–2015," according to the website.
But other lawmakers have expressed support for immigration reform as a way to address staffing shortages in senior living. During the opening session of last fall's National Investment Center for Seniors Housing and Care annual meeting, when NIC CEO Robert Kramer asked Rep. John K. Delaney (D-MD) what role immigration policy could play in addressing the shortage of trained senior care workers, Delaney said, "certainly this industry and the healthcare industry in general is an industry that would benefit enormously from it."
Rep. James B. Renacci (R-OH) and Elmcroft Senior Living CEO Pat Mulloy also expressed support for immigration reform as a potential solution to senior living staffing challenges during the NIC session.
LeadingAge declined to comment on the bill, but its research has supported an expanded immigrant direct care workforce as one way to meet future workforce needs.
Argentum also declined to comment on the bill, but Argentum President and CEO James Balda previously has said that immigration reform may be one way to address staffing shortages in senior living. "Historically, there have been visa programs for nurses when there were nursing shortages. Is there something that we could pursue similarly for caregivers?" he told McKnight's Senior Living last fall.