January 17, 2017
High blood pressure may protect 'oldest old' from dementia: study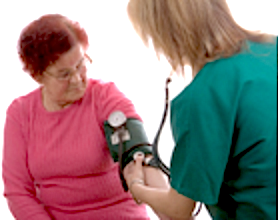 High blood pressure may protect 'oldest old' from dementia: study
Older adults who develop high blood pressure later in life have a lower risk of dementia after age 90, especially if they develop hypertension at or after age 80, according to the results of a study published online Jan. 17 by Alzheimer's & Dementia: The Journal of the Alzheimer's Association.
The findings challenge the idea that high blood pressure and other heart health risk factors increase dementia risk, according to the researchers, who said that their study is the first to focus on the role of hypertension in dementia in the "oldest old."
Researchers at the University of California, Irvine, and colleagues studied 559 people for an average of 2.8 years to investigate the relationship between dementia, the age of hypertension onset and blood pressure measurements. At enrollment, participants did not have dementia, although during the follow-up period, 224 of them received a diagnosis of dementia.
The investigators found that study participants whose hypertension began when they were 80 to 89 were 42% less likely to develop dementia after age 90 compared with those who reported no history of high blood pressure. Participants whose hypertension began at or after age 90 were at even lower risk; they were 63% less likely to develop dementia. The association was found regardless of whether participants were taking medication to treat hypertension.
Why might hypertension and dementia risk be associated? It could be that blood pressure needs to reach a certain level to maintain adequate blood flow in the brain for normal cognition, and that this level may change with age, the researchers said. Less likely but also possible, they added, is that blood pressure drops before the onset of dementia as a consequence of brain cell deterioration, and thus older people in whom dementia is not developing will have higher blood pressure.
Additional research is needed "before we can make the leap to suggesting changes to blood pressure recommendations for reducing dementia risk in clinical care," said the study's first author, Maria Corrada, M.S., Sc.D., a professor of neurology and epidemiology at UC Irvine.
The research was published on the same day that the American College of Physicians and the American Academy of Family Physicians released a new guideline for the treatment of hypertension in older adults. Approximately 65% of adults aged at least 60 years have high blood pressure, the groups said.
The guideline advises physicians to begin treatment of hypertension in older adults when their systolic blood pressure persistently is at or above 150 mm Hg, in order to reduce the risk of mortality, stroke and cardiac events. Also, the groups suggest that doctors consider beginning or intensifying drug therapy in older adults who have a history of stroke or transient ischemic attack or in those are at high cardiovascular risk, based on individualized assessment, in order to reduce the risk of another stroke or cardiac event.