February 01, 2018
Highly decorated veteran's medals may have been stolen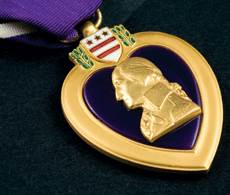 Purple Heart
A Kansas family is looking for answers while grieving the loss of their loved one. The resident's military awards are missing from a storage facility near the senior living community in Hutchinson, where he lived.
Charles Sankey died last week. The 73-year-old served during the Vietnam conflict, earning numerous medals. These include the Silver Star, which was awarded for gallantry in combat. It is the U.S. Armed Forces' third highest personal decoration for combat valor. He also received the Purple Heart, which is awarded to military personnel who are wounded or killed in battle. Sankey also earned four Bronze Stars. All have disappeared.
Sankey died from diabetes-related complications that were likely caused by Agent Orange. The herbicide and defoliant chemical was widely used during the war and has been linked to major health problems among those exposed to it.
Hutchinson police said they have several leads, but the medals were still missing at press time. The family is offering a $12,000 reward. Those with relevant information can contact the family at findchucksmedals@gmail.com. The Hutchinson Police Department can be reached at (620) 694-2816.