July 20, 2016
HUD expands internet access program for low-income seniors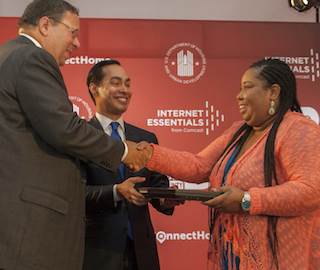 David L. Cohen of Comcast, left, and HUD Sec. Julian Castro are pictured with Karisha Bailey.
The U.S. Department of Housing and Urban Development has announced an expansion of its ConnectHome program to make high-speed internet access more readily available and affordable to senior citizens and others who live in public or HUD-assisted housing.
Through ConnectHome, internet service providers, nonprofit organizations and the private sector are offering broadband access, technical training, digital literacy programs, and devices for residents in assisted housing units in 28 communities across the country.
The recent expansion, announced July 14, means that older adults in all of Comcast's markets can now apply for the company's Internet Essentials program to obtain internet access for $9.95 per month. Previously, only low-income older adults who lived in markets where Comcast was testing the program — Boston, Palm Beach County, FL, San Francisco, Seattle and Philadelphia — were eligible to apply.
Comcast said that its Internet Essentials program connected more than 600,000 low-income families to the internet where they live from August 2011 through December 2015. With its expansion, the program will reach more than 40% of all HUD-assisted households across the country, Comcast said.
"This is the single largest expansion of the Internet Essentials program in its history, and we're thrilled to be working with HUD to help connect even more families, including seniors, veterans and adults without children, to the transformative power of having internet service at home," said David L. Cohen, senior executive vice president and chief diversity officer of Comcast.
The top 10 cities with HUD-assisted households in Comcast's service area are Chicago, Philadelphia, Miami, Baltimore, Houston, Washington, D.C., Detroit, Atlanta, San Francisco and Pittsburgh.
In the photo: Comcast Senior Executive Vice President and Chief Diversity Officer David L. Cohen, left, and U.S. Department of Housing and Urban Development Secretary Julián Castro present Karisha Bailey with a free computer and six months of free internet service through Comcast's Internet Essentials program. Bailey is a resident of Rainbow Village, a public housing development in Miami, where Comcast announced its Internet Essentials pilot program in March.