February 12, 2018
Increasing social interaction improves quality of life for residents with dementia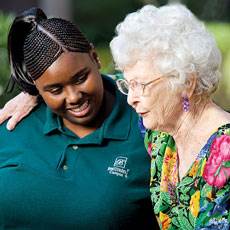 Increasing social interaction improves quality of life for residents with dementia
An hour a week of social interaction, combined with person-centered care, improves the quality of life for senior living residents with dementia and saves money, according to a study published in the journal PLOS Medicine.
"Taking a person-centered approach is about getting to know each resident as an individual — their interests and preferences — and reflecting these in all aspects of care," said Jane Fossey, DPsych, of the United Kingdom's Oxford Health NHS Foundation Trust, which was involved in the study along with the University of Exeter, Exeter, England, and King's College London. "It can improve the lives of the person themselves and it can be rewarding for carers, too. We've shown that this approach significantly reduces agitation and saves money," she added.
The study involved more than 800 people with dementia living in a total of 69 care homes. Two "care staff champions" at each community were trained, over four day-long sessions, to talk to residents about their interests and about decisions around their own care. This person-centered care, when combined with an hour a week of social interaction, improved quality of life and reduced agitation and aggression in people with dementia, the researchers said.
An hour may not seem like much time, but the researchers previously had found that people with dementia had an average of two minutes per day of social interaction, according to lead researcher Clive Ballard, M.D., of the University of Exeter Medical School.