August 28, 2017
Iowa ombudsman's office to stop AL, SNF visits due to budget cuts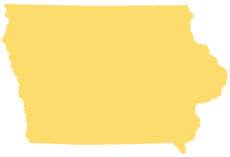 Iowa
The Iowa Long-Term Care Ombudsman Office has cut almost all staff visits to assisted living communities and nursing homes because of budget cuts, the Des Moines Register reports.
Communication with residents and others now primarily will be by telephone and other technology, which Lori Smetanka, executive director of National Consumer Voice for Quality Long-Term Care, an advocacy organization, told McKnight's Senior Living will be problematic.
"Not all residents have the ability to call or email an ombudsman, and the importance of having in-person support cannot be overstated," she said. "Not only are on-site investigations into complaints important for an individual resident's concern, but it also gives perspective on how other residents are affected by a problem. By addressing issues systemically, ombudsmen frequently prevent problems from occurring for all residents in a facility."
Brian Lee, executive director of advocacy organization Families for Better Care, told McKnight's Senior Living that he wasn't surprised by the budget cuts, although they "should really beckon every Iowa lawmaker to do some soul-searching after picking on elderly Iowans."
"Iowa has a sullied past with regards to the the ombudsman office," he said. "Allegations of political interference battered the ombudsman office just a few years ago, and now this reprehensible act."
The office's $1.7 million annual budget was reduced by approximately $500,000 for the fiscal year that began in July. Former administrator Deanna Clingan-Fischer told the newspaper that before she left her position for a similar one at Iowa State University, she decided to implement the reduced budget by cutting travel rather than staff. Eighty-two percent of the office's yearly budget reportedly covered salaries, with in-state travel being the next largest annual expense, at $65,000 to $85,000.
Eight regional ombudsman work for the office, investigating allegations of abuse and neglect, training senior living and long-term care community workers, and training volunteer ombudsmen who participate in community inspections performed by another state department, according to the Des Moines Register. The state's assisted living and skilled nursing communities are home to approximately 53,000 people.
The ombudsman's office made more than 5,000 visits to assisted living and skilled nursing facilities in the 2015-2016 fiscal year, almost 700 of them in response to complaints involving resident care or residents' rights issues, according to the media outlet, citing data from the office.
"It really seems that Iowa officials are carrying water for nursing home owners and their lobbyists, caring less about the potentially deadly ramifications this 'monetary' decision will have for residents," Lee said. "Sure, this scratched line item may save a few dollars on a strained budget, but is it really worth residents' lives, not to mention the political suicide from kicking nursing home residents in the mouth? What's next, stealing candy from babies? My hope is these officials will come to their senses and restore the ombudsman budget so residents have meaningful access to ombudsman services."
McKnight's Senior Living also contacted the Iowa Assisted Living Association, the Iowa Health Care Association / Iowa Center for Assisted Living and LeadingAge Iowa but had not received a response by the publication deadline.