August 18, 2017
Isakson Living brings new memory care approach to U.S.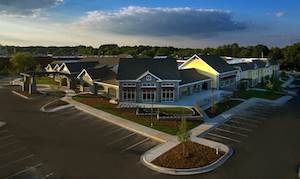 Park Springs. (Photo: Isakson Living)
Park Springs Health Services, which debuted in July in Stone Mountain, GA, has opened the first Dementia Care Matters Butterfly Household Model of Care in the United States.
"For nearly 15 years, we've been working diligently to improve the model of care for the aging population," Andy Isakson, managing partner of Isakson Living, said in a statement.
The Butterfly Model, from United Kingdom-based culture change organization DCM, starts with an intensive training of staff members so that they understand emotion-based care and can empathize with residents (called members) living with dementia. The model is named to reflect the growth of members of action-based learning teams who develop and implement the necessary skills to follow the model.
"People experiencing dementia become more feeling than thinking beings. Therefore, requiring heightened emotional care first — all we have is now," said David Sheard, CEO and founder of DCM and director of The Butterfly Community. "After pioneering this in four other countries, it is exciting to be arriving into the United States, launching our first Butterfly Home and developing this special relationship with Isakson Living."
The Butterfly Model has been evolving over the past 22 years, according to DCM. Homes also are located in the United Kingdom, Ireland, Canada, Australia.
When it opened on the 61-acre campus of the Park Springs continuing care retirement community in July, PSHS became the first fully executed household model in a CCRC in Georgia, according to Isakson Living. Featuring the state's first built-to-suit household model, the facility opened with 75% of the homes sold.
In addition to two Butterfly memory care households, PSHS has four additional households focusing on adult day services; assisted living; short-term, Medicare-certified rehabilitation; and long-term, Medicare-certified skilled nursing.
Each household accommodates 18 residents and includes a kitchen and dining room, staffed with a homemaker and making it possible for residents to eat what they want, when they want. In addition, each household has a living room and access to courtyards, allowing residents to go outside as they please. Staff members work around residents' schedules and preferences.
PSHS also includes a 3,100 square-foot physical therapy center that serves residents as well as the local community.
The construction of the new Park Springs Health Services and other Park Springs campus improvements were made possible through a $74.4 million loan from SunTrust Bank.