December 18, 2017
Kindred in talks to be acquired by Humana: report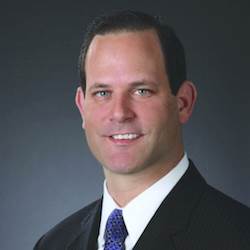 Kindred Healthcare President and CEO Benjamin A. Breier
Editor's note: The parties involved with this deal confirmed it Tuesday morning. Check back for continuing developments on this story.
Kindred Healthcare would be acquired by health insurance company Humana and two private equity companies if a $4 billion deal that is in "advanced talks" comes to fruition, according to the Wall Street Journal.
Under the terms being discussed, the newspaper reported on Sunday, Welsh Carson Anderson & Stowe and TPG would assume control of Kindred's facility-based businesses, which currently include assisted living communities and skilled nursing / rehabilitation facilities as well as its transitional care and rehab hospitals. The two private equity firms plus Humana would acquire Kindred's home healthcare and hospice businesses.
A deal could be announced soon, or talks could end before an agreement is reached, according to the media outlet.
Kindred has been selling its assisted living communities and skilled nursing facilities in an attempt to "significantly enhance shareholder value, enable us to sharpen our focus on higher margin and faster growing businesses, and further advance our efforts to transform Kindred," President and CEO Benjamin A. Breier said Dec. 1.
His remarks came as the company announced that since Oct. 1, it had completed the sale of one assisted living community and 12 skilled nursing facilities to BM Eagle Holdings, a joint venture led by affiliates of BlueMountain Capital Management, for a total of $31 million. "To date, the company has completed the sale of 80 skilled nursing facilities and five assisted living facilities for aggregate proceeds of approximately $658 million," Kindred said.
The company also announced earlier this month that it had transferred the day-to-day operations of five leased facilities in Massachusetts to a third party and expected the closing of those facilities in the second quarter of 2018. "In addition to these five facilities, the company continues to make progress on the sale of its remaining five skilled nursing facilities and one assisted living facility," Kindred said.
Sunday, Reuters reported that Humana has been "investing significantly" in its home health business, Humana at Home.
Kindred and Humana did not respond to requests for comment from McKnight's Senior Living. Both companies are based in Louisville, KY.