September 04, 2015
LeadingAge Ziegler 150 has new #1 for 2015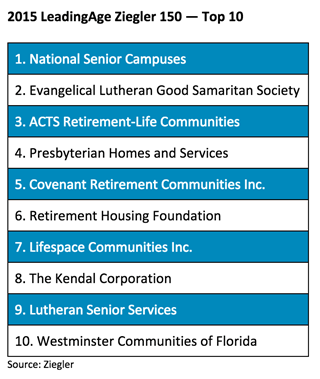 2015 LeadingAge Zielger 150 - Top 10
National Senior Campuses of Maryland tops the 2015 LeadingAge Ziegler 150 (LZ 150) as the country's largest not-for-profit multi-site senior living organization offering market-rate seniors housing, according to a "sneak peek" Ziegler offered in its e-newsletter. The full list will be published this fall.
National Senior Campuses, with a total of 18,122 market-rate independent living, assisted living and nursing care units, according to the 2015 list, had occupied the number two spot on the overall 2014 list. Evangelical Lutheran Good Samaritan Society of South Dakota, which had topped the overall list since its inception in 2004, moves to the number two spot for 2015.
National Senior Campuses' place at the top of the 2015 list "is a function of National Senior Campuses' continued growth of existing Continuing Care Retirement Communities (CCRCs) and new development, along with dispositions by Evangelical Lutheran Good Samaritan Society," according to the newsletter. Good Samaritan now has 18,048 units, according to the list.
All other positions among the top 11 systems on the 2015 overall list remain unchanged from 2014.
The 2015 report continues the collaboration begun 12 years ago between LeadingAge, an association of not-for-profit aging services providers, and Ziegler, an underwriter of financing for senior living, housing and healthcare providers. In 2014, the list was expanded from 100 to 150 organizations.
The publication also includes lists of the largest single-site providers in the country, along with the not-for-profit providers who own and manage the largest proportion of affordable housing for seniors. Data are as of the end of 2014.
Previous reports may be accessed on Ziegler's website.