August 14, 2015
Legionnaires' bacteria found in community's water supply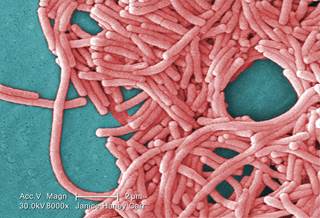 Gram-negative Legionella pneumophila bacteria (Janice Haney Carr, CDC)
A Jacksonville, FL, senior living community planned to decontaminate its water system Aug. 14 after two residents fell ill with pneumonia caused by the bacteria associated with Legionnaires' disease.
The Legionella bacteria had been detected in the water supply at Camellia at Deerwood, a Leisure Care community offering independent living, assisted living and memory care, in April 2014 as well, according to media reports. Several residents had become ill at that time, and the community subsequently and successfully had treated the water system.
The newly sick residents, both men, are aged 96 and 88 years, according to the Florida Department of Health. The senior living community is paying for some residents to stay in hotel rooms.
The Centers for Disease Control and Prevention has more information about Legionella on its website.