June 08, 2016
Liability could top $30 million if city halts senior living project, developer says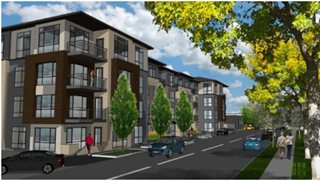 This artist's rendering of The Grove was part of a city press release announcing the project.
The city of Littleton, CO, might face a legal action that could cost more than $30 million if it halts construction of a mixed-use senior living project, reports the Denver Post.
The city approved a site development plan last year and issued building permits in April for a four-story, 160-unit apartment complex by Zocalo Community Development of Denver. Work has begun at the site, but the city's council debated stopping the project, known as The Grove, at its June 7 meeting. If that action was taken, Zocalo attorney Matthew Rork wrote in a letter to council cited by the media outlet, the city could be exposed to damages, and council members might be held personally liable.
Some residents reportedly told council that the complex, which sits on 4.3 acres, violates land use and zoning codes and is out of character with neighboring properties. Its detractors also maintain that proposed emergency access to the property is problematic and that the property contains less open space than required in some areas.
In addition to apartments for "active seniors," The Grove project calls for almost 11,000 square feet of retail space, a pool and outdoor deck, a dog park, an amphitheater, a bike shop and more than 300 parking spaces, according to a press release issued by the city in November.
Council members ultimately decided at their June 7 meeting to let construction proceed, but the developer and city still face a lawsuit, headed to court Sept. 1, from a Grove neighbor because original project approval was not subject to a public hearing or council vote.