August 01, 2016
Massachusetts first state to ban salary history questions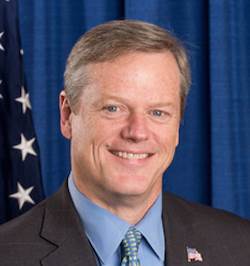 Gov. Charlie Baker
Massachusetts became the first state to ban employers from asking job applicants about their salary histories when Gov. Charlie Baker signed a bipartisan pay equity bill into law Monday.
S. 2119, which will go into effect July 1, 2018, was passed unanimously by both legislative branches in the state. Its provisions are designed to ensure equal pay for comparable work and equal opportunities to earn competitive salaries in the workplace.
The new law will prevent pay discrimination for comparable work based on gender, according to the governor. In addition to prohibiting employers from requiring applicants to provide salary histories before making formal job offers, the law permits employees to freely discuss their salaries with coworkers and authorizes the attorney general to issue regulations interpreting and applying the expanded law.
Employers will be allowed to consider certain attributes of employees and applicants when determining variation in pay, such as their work experience, education, job training or measurements of production, sales or revenue. The statute of limitations currently laid out under the Massachusetts equal pay statute will be expanded from one to three years, and employees no longer will be required to pursue a general claim of intentional discrimination at the Massachusetts Commission Against Discrimination before filing a separate equal pay claim in court.
A bill under consideration in California also would prohibit employers from asking job applicants about their salary histories.