May 24, 2018
MBK to acquire WESTliving portfolio for $382 million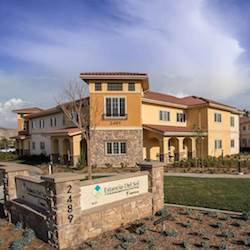 Estancia Del Sol is a WESTliving community in Corona, CA.
Irvine, CA-based MBK Real Estate will spend $382 million to buy nine senior living communities from Carlsbad, CA-based WESTliving.
MBK's parent company, Tokyo-based Mitsui & Co., announced the news on Wednesday. The transaction is expected to close late next month.
Mitsui said MBK will realize efficiencies in operating the nine WESTliving communities. The properties are located in Arizona, California and Washington, three of the six states where MBK already owns or manages communities as MBK Senior Living. MBK also has a presence in Colorado, Oregon and Utah.
The 28-year-old MBK currently has a total of 25 communities with approximately 2,600 units. The nine WESTliving communities would add approximately 1,174 units to the total, according to WESTliving.
MBK also develops and operates multifamily homes and industrial properties, but Mitsui said that its "senior living business is strategically the most prioritized of all business for Mitsui's real estate business in the U.S."
In a presentation about the potential purchase, Mitsui said that under its business model, the company acquires existing properties and increases their value through maintenance, renovations and service improvements, leading to higher resident satisfaction, rent growth and improved occupancy. Then it sells the property for a financial gain.
In the U.S., MBK is focused on independent living, assisted living and memory care. As of March, its communities' occupancy was 94.5% and its rent growth was 4.7% on a quarterly basis, year-over-year comparison, Mitsui said.
Ten years after its founding, WESTliving will be closing down its business activities and operations after the sale, according to the company's CEO, John Rimbach.
"I am humbled and honored to have had the opportunity to work closely with the WESTliving team in demonstrating their talents, giving of themselves and enhancing our residents' enjoyment of life and wellness to its fullest," he said. "I am grateful and proud of what has been accomplished together."
Rimbach said he expects a smooth transition for residents, families and staff at each of the communities because MBK's culture and standards are "consistent with those WESTliving has set over the years."
"In the meantime," he added, "we are approaching the sales process and ownership transition with the same WESTclass hospitality approach and attention to detail that has guided our operations from day one."