May 18, 2017
McKnight's Senior Living blogs earn two national awards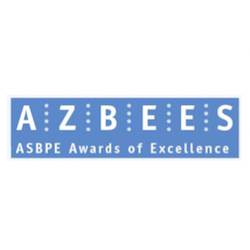 McKnight's Senior Living blogs earn two national awards
Blogs published by McKnight's Senior Living won two national awards from the American Society of Business Publication Editors on Thursday at the organization's annual conference in St. Petersburg, FL.
This year's contest recognizes business-to-business journalism produced in 2016.
Senior Editor Lois A. Bowers won a national Silver Award in the Blogs – How-to/Tips/Service category for a set of three columns:
How to Sleep on the Road, a May 2, 2016, blog that shared tips for dealing with "the first-night effect," which causes some people to experience sleeping difficulties when they are away from home.
How to Prevent the Spread of Infectious Disease, a June 27, 2016, blog relaying steps that senior living communities can take to prevent the spread of infectious disease.
Advice for the Post-Gaylord Exercise World, an Oct. 17, 2016, blog about how people can overcome challenges to meeting their exercise objectives.
Bowers now has won the same award in the same category of the Azbee Awards competition for three consecutive years.
This year, Bowers also earned a national Bronze Award in the Blogs – Analysis/Commentary category for another set of three columns:
The 'Walmart Effect' Intensifies, a Feb. 16, 2016, blog about the increasing wage pressure that senior living operators face from companies such as Walmart.

Crisis Management 101, a Feb. 29, 2016, blog sharing the textbook way that one senior living community handled a crisis.
Consumer Education Important, a March 28, 2016, blog examining the consumer-related efforts of several groups serving the seniors housing and care industry.
McKnight's Senior Living also won four regional Azbee Awards from ASBPE earlier this month: regional Silver Awards in the Blogs – Analysis/Commentary and Blogs – How-to/Tips/Service categories; a regional Silver Award in the Enterprise News Story category for an article Bowers wrote about a drug disposal rule proposed by the Environmental Protection Agency; and a regional Bronze Award in the Photo Gallery/Slide Show category for an online slide show Bowers created to accompany a blog about steps senior living communities can take to make a good first impression on prospective residents and their families.
Sister media brand McKnight's Long-Term Care News received four national Azbee Awards on Thursday.