January 26, 2017
More NPs could be solution to senior living care challenges, study says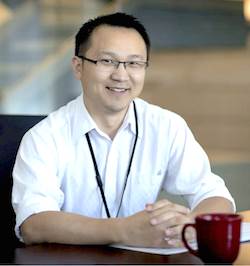 Nengliang "Aaron" Yao, Ph.D., (Photo: Dan Addison, UVA)
Nurse practitioners are providing more care to older adults who live at assisted living communities or at home than are internal medicine physicians, according to new research published in the Journal of the American Geriatrics Society, but state regulations are hindering their ability to help meet the increasing demand for such care.
The paper's first author, Nengliang "Aaron" Yao, Ph.D., of the University of Virginia School of Medicine's Department of Public Health Sciences, along with colleagues at the UVA School of Nursing, Virginia Commonwealth University and the University of Tennessee, reviewed Medicare data to learn how many house calls were made in 2012 and 2013, who made them and where they took place. The total number of visits made by all specialties grew from 4.9 million to almost 5.2 million, they found.
NPs provided more than 1.13 million visits in 2013, surpassing the 1.08 million made by internal medicine doctors. That's the reverse of 2012, when the primary care physicians made 1.08 million visits and NPs made fewer than 925,000.
"This has implications for both house-call providers and nursing education," Yao said. "If we want to take care of our geriatric population, we really need more providers to do so."
State governments should revise regulations that limit the growth of the NP profession, and more nursing schools should offer training programs in primary and palliative care provided in residential settings, he said.