November 06, 2016
New process aids employee retention, performance, morale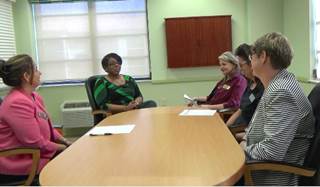 An interviewing panel meets at Edgewater Pointe Estates.
A new recruitment, interviewing and selection process for employees at a Florida senior living community has resulted in improved retention and performance among new hires and improved morale among existing employees, according to the community's executive director and director of nursing.
Ninety-three percent of the people hired through the new process were still working at Edgewater Pointe Estates of Acts Retirement-Life Communities, Boca Raton, FL, and performing well as of the latest calculation, Carol DuMond Stryker, Ed.D., M.S., R.N., the nursing director, told McKnight's Senior Living. That's an improvement over the previous process, Executive Director Susan George added.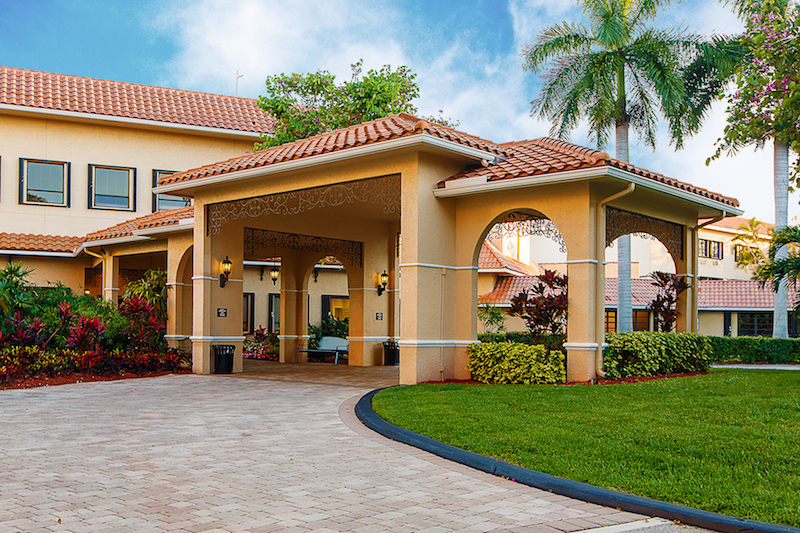 Edgewater Pointe Estates (pictured), which has approximately 400 residents in independent living, assisted living and skilled nursing, instituted panel interviews in June 2015. Stryker said she brought techniques from previous employers to the community when she began working there.
The new process involves identifying the specific skills needed for a particular position, including skills that might be missing among current team members.
"Each team has its own set of talents that each person brings to the table," Stryker said. "So each team might have different questions and gifts that it's looking for in a candidate. Or the needs might be different in one area of our community versus another area."
Previously with open positions, George said, each department manager was responsible for interviewing those who ultimately would work under them, and they would make the hiring recommendations. Now, Stryker said, the team members who will be working most closely with the person ultimately hired to fill an opening are gathered to discuss what is needed.
For instance, she said, the hiring of a licensed practice nurse might involve a certified nurse assistant, an RN or nurse manager and others. "We brainstorm," Stryker said, adding that members of the group then create a form listing desired knowledge, skills and abilities; behaviors; and "fit factors."
For an RN position, for instance, PICC line, IV and wound care skills might be important, she explained.
"We're also looking for leadership skills. We're looking for people who already have a good understanding of culture change in resident care. We're looking for people who have good customer service skills," Stryker said. "That might be what we would put under knowledge."
In the behavior column, team members might include attributes such as "open-minded," "team-builder," "compassionate," "positive attitude," "skilled communicator" and "organized."
A fit factor might be flexibility as to scheduling, especially on weekends and holidays.
"The other thing with fit factors is the culture of loving kindness, which is what we try to achieve with our Acts Signature Experience," Stryker said. "We want to be sure that the person would model the idea of loving kindness."
After the team agrees what will be required of the person who is hired, members determine specific interview questions and conduct the interviews together. "We have a kind of score card," Stryker said.
After each interview, team members discuss each candidate. Their input is factored into the hiring decision.
Anecdotally, the new process has increased morale among employees — community leaders are thankful for the help of those who will be working most closely with the new hires, and other team members appreciate being asked to contribute — and employees also feel invested in helping the new hires succeed.
Edgewater Pointe Estates has used the new process for all of its hiring in the nursing department as well as for an administrator and an admissions coordinator, Stryker said, adding that some other Acts communities are using the process as well.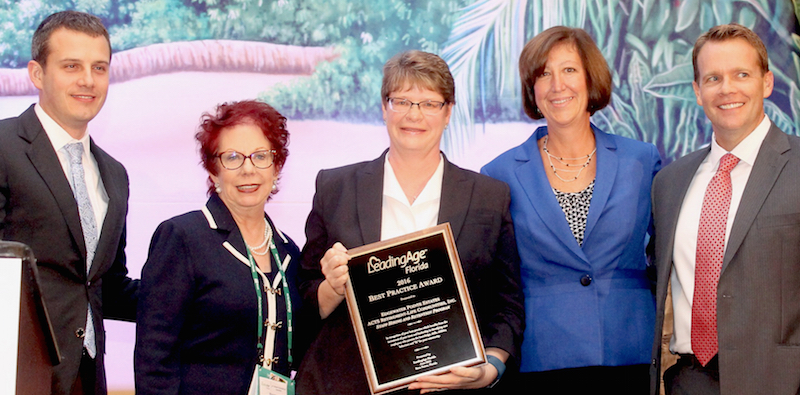 The effort caught the attention of LeadingAge Florida and received its Best Practice Award at the organization's July 26 meeting.
"With more than 48,000 healthcare job openings in Florida, the model of excellence implemented at Edgewater Pointe Estates via the staff hiring and retention program can be instructive for providers across the state," LeadingAge Florida President & CEO Steve Bahmer told McKnight's Senior Living.
Above: Edgewater Pointe Estates wins the 2016 Best Practice Award from LeadingAge Florida. Pictured, from left: Josh Ashby, chairman, LeadingAge Florida Board of Trustees; Maureen Gartland, Leading Age Florida board member; Carol DuMond Stryker, director of nursing, Edgewater Pointe Estates; Susan George, executive director, Edgewater Pointe Estates; Steve Bahmer, president and CEO, Leading Age Florida.