January 12, 2018
New strategies will reduce veterans home Legionnaires' risk, governor says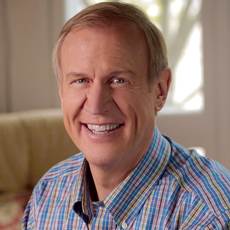 Illinois Gov. Bruce Rauner
Following a seven-day stay at a veterans home that has been plagued with cases of Legionnaires' disease, Illinois Gov. Bruce Rauner announced near-term and longer-term plans to try to reduce the health risks for staff members and the 600 domiciliary, intermediate and skilled nursing care residents who live there.
"We have challenges. These facilities are old," the Republican said Wednesday in a post-stay press conference at the Illinois Veterans' Home at Quincy, where 13 residents have died from Legionnaires' since mid-2015. "We need to make investments in them, and now that we have support from U.S. Sen. [Dick] Durbin and bipartisan members of the Illinois General Assembly, it is time to take action."
Durbin, a Democrat, visited Rauner and others at the facility on Jan. 5.
Action will include upgrading the home's plumbing systems, installing faucet filters and working with the city of Quincy to find a new water source for the home, Rauner said. The infrastructure improvements will begin within weeks, he added.
Additionally, a local hospital and the state Department of Health have promised to return lab results more quickly, Rauner said, noting that the hospital was taking days but now will take hours to analyze specimens.
Longer-term, the governor said he is appointing a Veterans' Capital Needs team to develop an investment strategy. The committee will include health experts, veterans' advocates, state legislators, federal officials and administration staff, Rauner said.
One point the governor said he wanted to make "crystal clear," however: "I do not support closing this facility."
Rauner said that during his stay at the veterans home, he showered in and drank the water, mingled and played games with residents, and reviewed the home's medical, water treatment and patient care protocols. Officials will continually review the water-treatment processes already underway as recommended by the U.S. Centers for Disease Control and Prevention and the Illinois Department of Public Health, Rauner added.
Jan. 6, officials from the CDC and the National Institutes of Health made recommendations to the state Public Health Department to try to reduce the risk of the disease at the home, but they noted that following the advice may not prevent future outbreaks.