June 08, 2016
No bones about it: Baseball player is a fan of senior living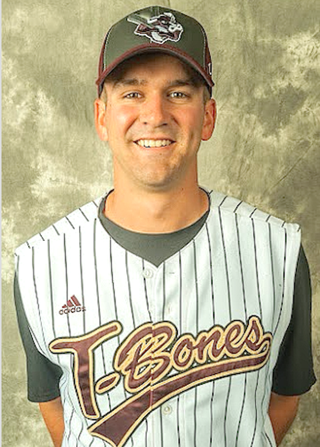 Casey Barnes (Photo courtesy of the Kansas City T-Bones)
When some residents from The Piper assisted living and memory care community attend a game at CommunityAmerica Ballpark this Saturday, they'll be supporting one of their fellow residents.
Kansas City T-Bones baseball team pitcher Casey Barnes may not be on the mound that day, but he'll be on their minds. The 28-year-old right-hander has moved into the Kansas senior living community for the season.
"We are serving as a host family for the team," Coletta Hummel, director of community relations for The Piper, told McKnight's Senior Living. The community, which opened a year ago, is just a little more than a mile from the ballpark where the team, part of the American Association of Independent Professional Baseball and not affiliated with Major League Baseball, plays.
Barnes, from Tempe, AZ, told The Piper that he was "blown away" by his living arrangements after initially wondering what it would be like to live there. "What makes this really cool is our household model," Hummel said. "It makes it more comfortable for him, similar to staying in a home."
The senior living community, developed and built by Assisted Living Associates, is divided into six "households" (four of which are open now, with a fifth one opening soon) that ultimately will have 20 residents each. All assisted living apartments include a kitchenette, bedroom, living area, bathroom and washer/dryer. But the households also include an open kitchen and family room, dining room, living room, den and sunroom.
So although Barnes can cook for himself in his apartment, he often eats with the residents of his household. "Eggs, bacon, French toast, breakfast sandwiches, pancakes, turkey, broccoli, rice and beans, grilled chicken — they take care of me, no doubt about it," Barnes said in an interview for The Piper's website. Residents have met Barnes' parents and some teammates when they have visited.
The pitcher is outgoing and has taken an interest in residents' lives, Hummel said, and the residents enjoy living with him. He's even working to connect the household television sets to the internet so residents can watch T-Bone games, which aren't often televised on the networks.
"It's been fun to see the relationship blossom," Hummel said. "It brings vibrancy and life and excitement into our community."
Barnes told The Piper that his experience has dispelled his preconceptions about assisted living. "I told my parents that Grandpa needs this, and that I hope I end up in a place like this when I'm at that age," he said. For now, he said, living there "takes the stress off of me as a player, because I don't have to worry about anything."
So regardless of how the T-Bones perform against the Joplin (MO) Blasters on Saturday, the intergenerational arrangement seems to be a no-hitter — that is, a no-brainer — for The Piper, the T-Bones and Barnes.
And such arrangements seem to be gaining ground in senior living. As McKnight's Senior Living previously reported, four pitchers with the South Bend Cubs, the Class A affiliate of the Chicago Cubs, are residing in Indiana continuing care retirement / life plan communities during this year's baseball season.